Georgian cuisine is something very special and honorable for Georgian people. We promise you will love it! People often ask what makes Georgian meals this tasty? Fresh and healthy ingredients, a wide range of different spices and recipes and of course professional chefs!
Every single region has its unique recipes which are typical and express the character of the region. Georgian love hot and spicy food. Most dishes are prepared with walnuts as well as garlic and a lot of herbs.
Piquant sauces and delicious Jams can be prepared from almost any fruit. The list would be endless if we had written every dish you should taste while being in Georgia. Here we tried to select the most important traditional ones:
Khachapuri - Cheese which is baked in dough. According to the type of the cheese and region we define few sorts of Khachapuri: Imeruli, Megruli, Acharuli;

Mtsvadi - Fried meat on the fire, the choice is various: pork, beef, calf, Lamb and so on;

Pkhali - dish is made by the herbs with garlic, walnuts and vinegar;

Nigvziani badrijani - wrapped fried eggplant with walnut and garlic sauce;

Khinkali - Boiled dough filled with minced meat;

Satsivi - it is usually made with turkey or chicken dipped in a nutty-garlic sauce.

Churchkhela - Georgian traditional dessert made with nuts covered with boiled grape juice Tatara
Georgia is country with magical nature and unique ancient culture: high mountains, green meadows, clear rivers and lakes, ancient cave towns, old and new cathedrals, delicious food and of course special Georgian wine,
Georgian people always believed that the guest was sent by the god, that is one of the reasons why Georgians respect guests that much, visitors from any point of the world are always welcome in our country. So be our honorable guest, explore Georgia's delicious cuisine and wine and feel the Georgian spirit.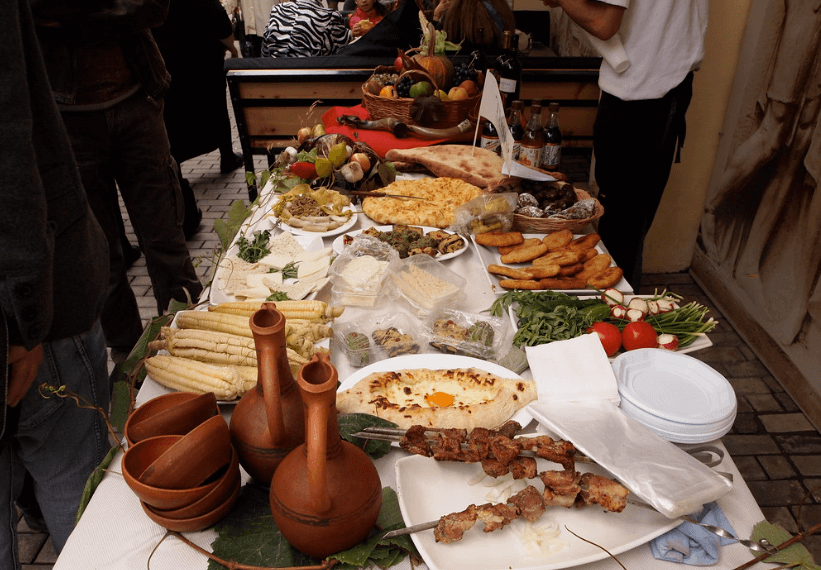 Prices - From $96.33
If you are interested in exploring amazing sites in Georgia with the team of professionals of Archeotour - contact Info@archeotour.ge or Call us +995 593 27 24 36 - Our customer service is always ready to serve you!
We hope the article was helpful to you!