Follow Borjomi
Follow Borjomi
Read also: Medical Tourism in Georgia: Which Sanatorium is Better To go To?
Georgia is a country of unforgettable memories. An abundance of evergreen forests, sunny beaches, high mountains, caves, canyons and rich cultural heritage, this small country has everything that can offer travelers from around the world. Even the most experienced tourists confess the splendor of Georgia. Those bright and stormy emotions you can experience here are associated with this unique culture and traditions which nowhere else seems to be seen. We could name endless reasons regarding exploring Georgia but you better find out them by yourself.
Experiences you'll have
This tour was inspired by the beautiful nature of Borjomi resort, its healing properties, coniferous forests, natural mineral waters and green meadows. This is a great way to improve your health and restore the internal balance of your body. In this tour package we give our guests an excellent opportunity to have consultations with doctors, as well as a variety of spa relaxation procedures.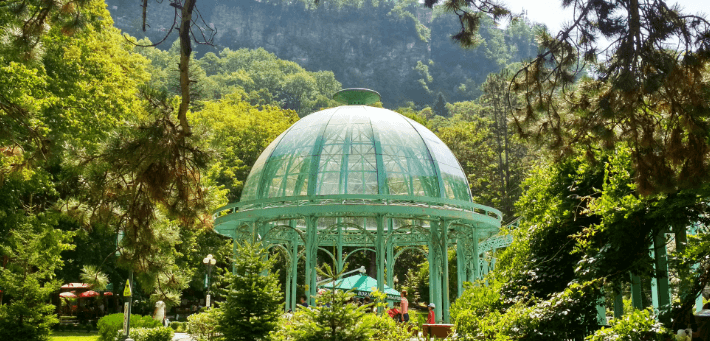 Itinerary
Tour package, which lasts for 8 days, includes the following:
Doctor appointments with – Gynecologist; therapist;
2 procedures of Hydromassage with mineral water;
Paraffin Therapy - 2 procedures;
Microclyster (with oil and plants) - 2 procedures;
Mineral water inhalation -2 treatments;
Physiotherapy - 3 procedures;
Bath treatments, bubble bath, Wichi shower, Rising shower-3 procedures for each type;
Underwater massage-1 treatment, Mineral bath - 2 treatments;
Laboratory tests (general blood count, general urine test, glucose) - 1 analysis for each type;
Pool, hot tub, fitness center, Russian and Finnish saunas, Turkish steam bath;
All procedures will be discussed and appointed with the doctor after consultation with you. In addition, as a gift from our company, you will choose one exclusive service.
Accommodation
Our guests are going to be staying at the hotel which is located in Borjomi. Services include spa services and wellness center with indoor pool, sauna, and a complex of medical procedures. It offers free Wi-Fi access and also free private parking space. The rooms are equipped with air conditioning and a flat-screen TV. The bathroom provides a hairdryer, bathrobes and slippers. Hotel has a restaurant and a bar. Here you can find so many entertaining attractions such as: playing tennis, billiards, riding a bike, horse riding and much more...
Price includes:
Airport transfers
Transportations
Medical treatments
Doctor appointments
Hotel
Meals (Breakfast, lunch, dinner)
Insurance
Not included:
Visa
Non-program related entertainment
Air flight
Excursions (optional)