Excursions at Kazbegi
Embark on a Captivating Day Tour in Kazbegi
Discover the natural wonders and cultural delights of Kazbegi on an unforgettable one-day tour. Our expertly crafted itinerary will take you on a whirlwind adventure, immersing you in the stunning landscapes and rich history of this remarkable region.
Departing from Tbilisi, we'll embark on a scenic drive along the Georgian Military Highway, a renowned route offering breathtaking vistas of the countryside. As we ascend into the mountains, you'll witness the landscape transform, with rolling hills giving way to majestic peaks.
Our first stop will be at the iconic Ananuri Fortress, an impressive medieval complex perched on the banks of the Aragvi River. Explore its ancient towers, admire the ornate frescoes adorning the walls, and learn about the fortress's storied past from our knowledgeable guide.
Continuing our journey, we'll make our way towards Stepantsminda, the charming town that serves as the gateway to Kazbegi. Here, we'll visit the jewel of the region, the Gergeti Trinity Church. Nestled on a hilltop with a backdrop of snow-capped mountains, this 14th-century monastery offers panoramic views that will leave you in awe. Take your time to soak in the serenity and capture photographs of this truly remarkable location.
Afterward, we'll venture deeper into the Kazbegi region, embarking on a picturesque hike to the stunning Gveleti Waterfalls. As we navigate the trails, surrounded by verdant forests and meandering streams, the sound of cascading water grows louder. When we reach the falls, you'll be captivated by their beauty and the sheer power of nature. Take a refreshing dip in the crystal-clear waters or simply relax and relish in the tranquility of the surroundings.
To replenish our energy, we'll enjoy a delicious traditional lunch at a local restaurant, savoring the flavors of authentic Georgian cuisine. Indulge in mouthwatering dishes such as khinkali (dumplings) or khachapuri (cheese-filled bread), accompanied by locally produced wines.
As the day draws to a close, we'll make our way back to Tbilisi, reflecting on the incredible sights and experiences we've encountered. The memories of the breathtaking landscapes, the warm hospitality, and the rich cultural heritage of Kazbegi will stay with you long after the tour concludes.
Join us on this captivating one-day tour in Kazbegi, where adventure and beauty intertwine. Let us guide you through the wonders of this extraordinary region, creating memories that will last a lifetime. Book your tour with us and prepare to be enchanted by the magic of Kazbegi.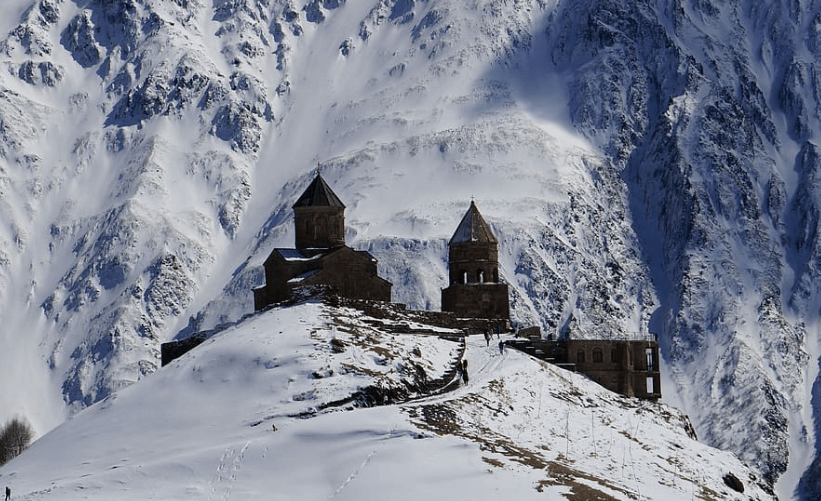 If you are interested in exploring amazing sites in Georgia with the team of professionals of Archeotour - contact Info@archeotour.ge or Call us +995 593 27 24 36 - Our customer service is always ready to serve you!