Georgia is an extraordinary country, and October is the perfect time to visit. With its mild climate and beautiful landscapes, Georgia offers a unique experience that you won't find anywhere else in the world. Its vibrant culture, delicious cuisine, and friendly people make it an ideal destination for those seeking adventure, relaxation or just plain fun.
One of the best things about Georgia in October is the weather. Temperatures are comfortable with moderate humidity levels and cool evenings that make for great sleeping conditions. There's also plenty of sunshine during the day so you can enjoy all your outdoor activities without worrying about getting too hot or sunburned.
You can also taste amazing wine because autumn is a wine making season in Georgia and more - you can attend painting with Wine Masterclasses!
If you're looking for adventure, Georgia has got you covered! Hike through stunning mountain ranges such as Kazbegi and Svaneti while enjoying breathtaking views of snow-capped peaks.
Important Days in October
October 14, Svetitskhovloba
The action of Svetitskhoveli or Svetitskhovloba takes place in Mtskheta, one of Georgia's oldest cities and its former capital. Svetitskhoveli Cathedral and Mtskheta as a whole are honored at the festival.
According to legend, Saint Nino, a lady who spread Christianity in Georgia during the fourth century, designated the location of the cathedral as the first Georgian Church. The modern Svetitskhoveli was constructed in the first part of the 11th century by the architect Arsukidze, who had been hired by Melchizedek I, the first Catholicos-Patriarch of All Georgia, after the ancient structure was destroyed during one of the several battles that plagued the area.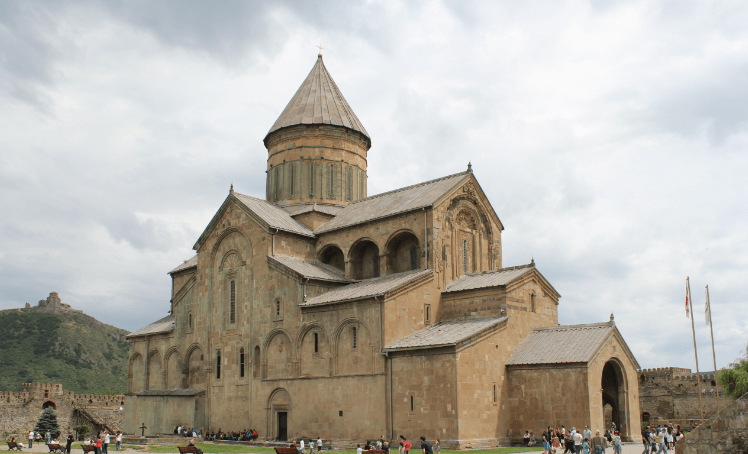 Archeotour is committed to providing personalized service, and we tailor our tours to meet the needs and preferences of each traveler. We believe that traveling is about creating unforgettable memories, making new friends, and discovering the beauty of the world we live in. Come join us and discover the best that Georgia has to offer with Archeotour. Contact us today at info@archeotour.ge or call us at +(995) 593 272 436 to book your tour.