Tbilisi, the capital city of Georgia, is a vibrant and historic destination with a rich blend of culture, architecture, and natural beauty. Here's a description of some popular tours you can experience in Tbilisi
1. Old Town Walking Tour
Explore the charming cobbled streets of Tbilisi's Old Town, known as Avlabari and Sololaki. Discover historic landmarks, such as the Narikala Fortress, Metekhi Church, and the Sioni Cathedral. Immerse yourself in the city's unique blend of medieval and modern architecture, while your guide shares stories about Tbilisi's past.
2. Wine Tasting Tour
Georgia is one of the oldest wine-producing regions in the world, and a wine tasting tour is a must. Visit local wineries and wine cellars to learn about traditional Georgian winemaking techniques, taste a variety of wines made from unique grape varieties, and enjoy Georgian hospitality and food pairings.
3. Cable Car Ride to Narikala Fortress
Take a cable car ride up to the Narikala Fortress, which offers breathtaking panoramic views of the city and the Kura River below. Explore the fortress grounds and learn about its historical significance from ancient times to the present day.
4. Georgian Cuisine Tour
Embark on a culinary journey through Tbilisi's markets, street food stalls, and traditional restaurants. Sample local delicacies such as khachapuri (cheese-filled bread), khinkali (dumplings), and various Georgian sweets. Learn about the importance of food in Georgian culture and discover the flavors that make Georgian cuisine so unique.
5. Art and Culture Tour
Tbilisi boasts a thriving arts scene. Visit art galleries, studios, and cultural centers to appreciate contemporary Georgian art, traditional crafts, and performances. The Shota Rustaveli Avenue, home to many theaters and art spaces, is a hub for artistic exploration.
6. Tbilisi Sulphur Baths Experience
Discover the historic sulfur baths that Tbilisi is famous for. You can enjoy a relaxing soak in the naturally heated waters while surrounded by the city's unique architecture. The baths have been a central part of Tbilisi's culture for centuries.
7. Open-Air Ethnographic Museum
Explore the Tbilisi Open-Air Museum of Ethnography, which showcases traditional Georgian architecture and rural life. The museum features authentic houses from different regions of Georgia, providing insights into the country's diverse cultural heritage.
8. Mtskheta and Jvari Monastery
TourJust a short drive from Tbilisi, visit the ancient town of Mtskheta, a UNESCO World Heritage site. Explore historical landmarks such as the Svetitskhoveli Cathedral and the Jvari Monastery, which offer a glimpse into Georgia's religious and architectural history.
9. Modern Tbilisi Architecture Tour
Discover Tbilisi's modern architectural wonders, including the Bridge of Peace, the Presidential Palace, and contemporary skyscrapers. Learn about the city's ongoing transformation and the architectural influences shaping its skyline.
10. Nighttime Tbilisi Tour
Experience the city's vibrant nightlife by taking a guided tour of Tbilisi after dark. Visit bustling markets, sample street food, and soak in the illuminated beauty of iconic landmarks.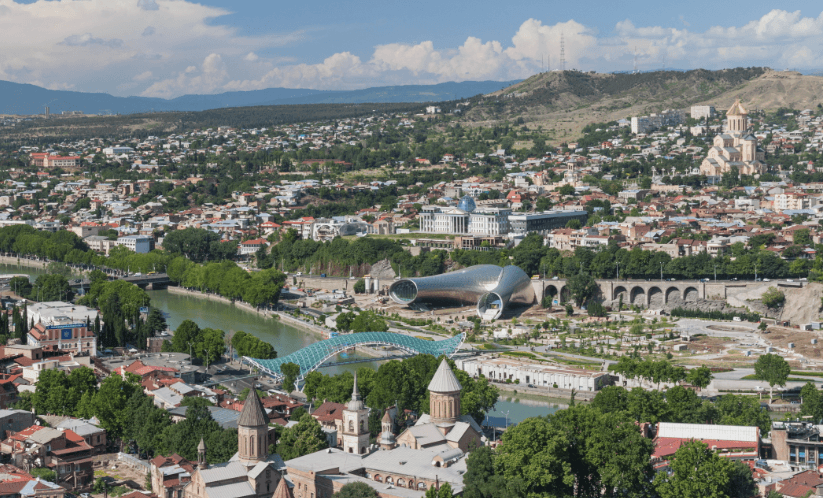 These tours offer just a glimpse of the many experiences Tbilisi has to offer. Whether you're interested in history, culture, cuisine, or simply exploring the city's unique atmosphere, Tbilisi has something for everyone to enjoy.