The Top 10 Georgia Restaurants and Bars
Georgia, Tbilisi is a vibrant city full of life and culture. One of the best ways to experience all that Tbilisi has to offer is through its food and drink scene. From traditional Georgian cuisine to trendy bars, this city has it all.
One of the top restaurants in Tbilisi is Pur Pur. This cozy spot serves up delicious Georgian dishes with a modern twist. The menu includes classics like khinkali (dumplings) and khachapuri (cheese bread), as well as more unique dishes like duck with pomegranate sauce. The atmosphere is warm and inviting, making it the perfect spot for a romantic date or dinner with friends.
1)Funicular
Perched atop a steep hill in Tbilisi, Georgia, lies one of the most unique dining experiences you'll ever encounter: a funicular restaurant. This delightful eatery is accessible only by cable car and offers diners breathtaking views of the city below as they ascend to their meal. Once at the top, guests can choose from an extensive menu of Georgian cuisine while enjoying panoramic vistas from every seat.
The funicular restaurant is set within a beautifully designed and modern building that's situated on the edge of Mtatsminda Hill. The structure features floor-to-ceiling windows that wrap around the entire space, providing visitors with unobstructed 360-degree views of Tblisi's skyline. As you take in your surroundings and enjoy your meal, it almost feels like you're floating above the bustling city below.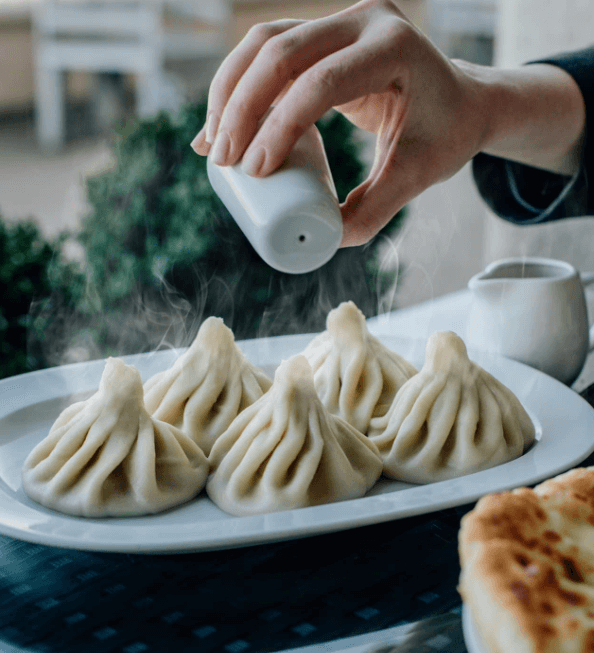 Source: Funicular
2)Melograno
Melograno Restaurant in Tbilisi is a culinary gem that promises to satisfy your taste buds with its authentic Italian cuisine. Located in the heart of Georgia's capital city, this restaurant boasts an elegant and cozy ambiance that is perfect for a romantic dinner or a family gathering. The interiors are tastefully designed with warm lighting, wooden furnishings, and beautiful artwork adorning the walls.
The menu at Melograno Restaurant offers a wide range of dishes that are made using fresh ingredients sourced locally and directly from Italy. From classic pasta dishes like spaghetti carbonara to seafood delicacies like grilled octopus, every item on the menu is prepared with utmost care and attention to detail. The restaurant also has an extensive wine list featuring some of the best Italian wines that perfectly complement your meal.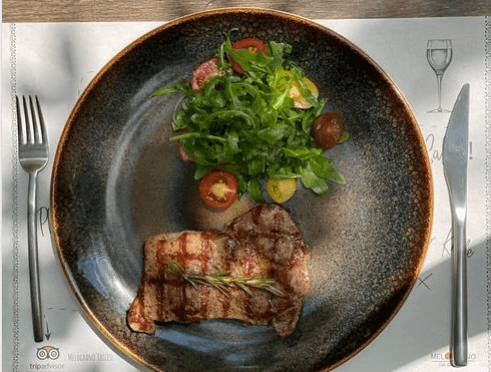 Source:Melograno
3)Barbarestan
Barbarestan is one of the most popular restaurants in Tbilisi. Known for its delicious food and charming ambiance, this restaurant has quickly become a favorite among locals and tourists alike. From the moment you step inside, you'll be greeted by friendly staff and a warm atmosphere that makes you feel right at home.
The menu at Barbarestan is full of tasty Georgian dishes that are made using only the freshest ingredients. Whether you're in the mood for classic khinkali dumplings, savory chakhokhbili stew, or crispy fried eggplant with walnut sauce – there's something for everyone here. And if you're feeling adventurous, be sure to try their famous "Shkmeruli" chicken dish – it's a must-try!
But it's not just the food that sets Barbarestan apart from other restaurants in Tbilisi.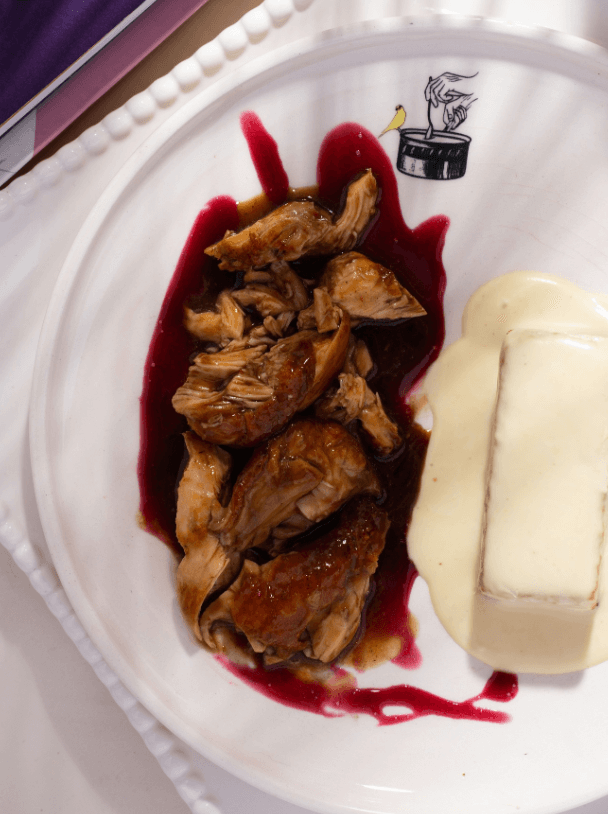 Source: Melograno
4)Craft Wine Bar
If you're looking for a wine bar that offers the best food and great atmosphere, look no further than Craft! Their wine selection is one of the best in town, and their bartenders are passionate about pouring delicious wines to perfection.Join them today and enjoy some fantastic conversation – with Craft wine bar you've come to expect nothing but excellence!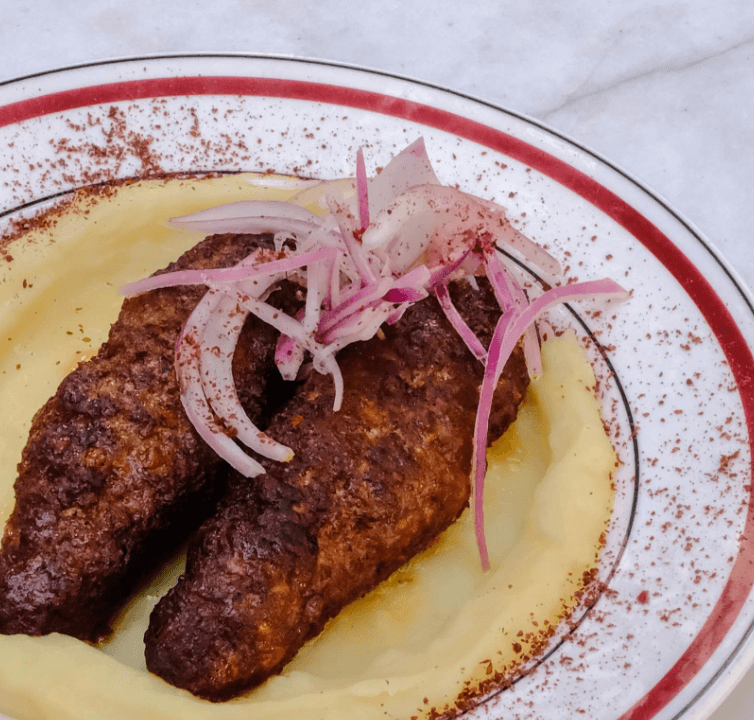 Source:Craft Wine Bar


5)Shavi Lomi
If you're looking for an authentic Georgian dining experience, look no further than Shavi Lomi in Tbilisi. This restaurant offers some of the best Georgian food around, with a menu that's packed full of traditional dishes and modern twists on old favorites.
At Shavi Lomi, you'll find dishes like khinkali (dumplings), khachapuri (cheese bread), and chakhokhbili (chicken stew) – all made using fresh, locally-sourced ingredients. But what really sets this restaurant apart is its commitment to quality: everything from the herbs and spices used in each dish to the way the food is presented is carefully thought out to ensure that every meal is as delicious as possible.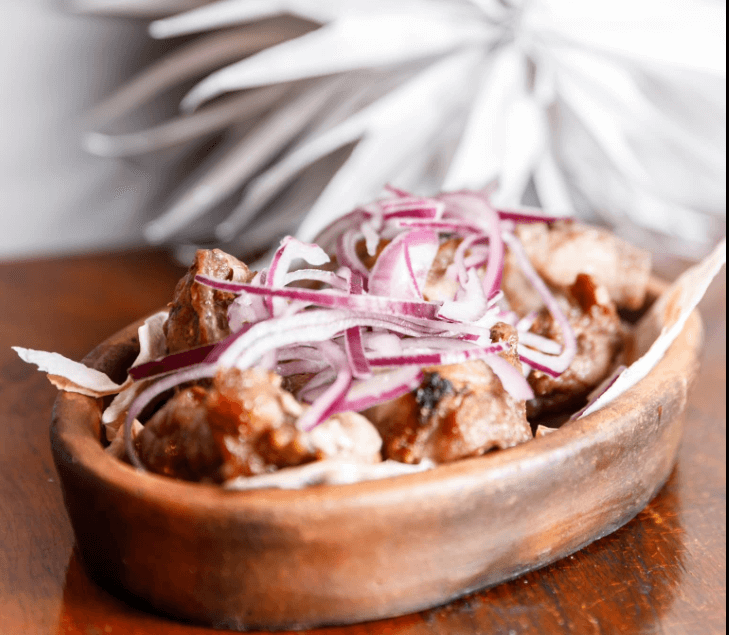 Source:Shavi Lomi

6)Veraze
Tbilisi is a city that boasts of its rich culture and history, and it's no wonder that the culinary scene here is equally impressive. Among the many restaurants that you can find in Tbilisi, "Veraze" stands out as a must-visit for any food enthusiast. The restaurant offers a unique dining experience that combines traditional Georgian cuisine with modern twists.
When you step inside "Veraze", you'll be transported to a cozy and elegant space with dim lighting and warm decor. The ambiance sets the tone for an unforgettable dining experience, but what really makes "Veraze" stand out is the quality of their food. From starters to mains, everything on their menu is expertly prepared using fresh ingredients sourced from local farmers.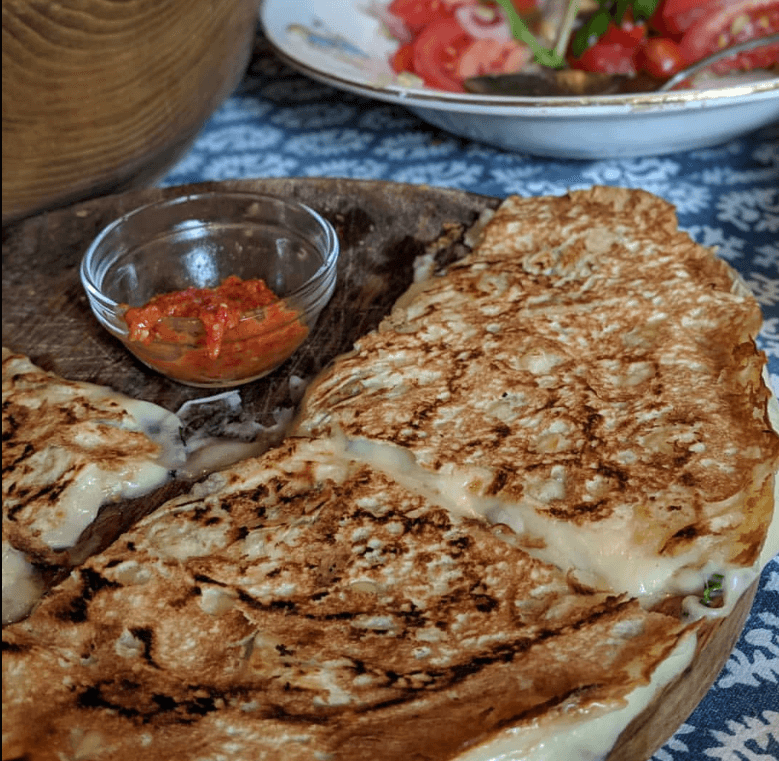 Source: Veraze
7)Puri Guliani
Puri Guliani is a well-known Georgian restaurant that has become a favorite among food lovers. It is located in the heart of the city and offers some of the most delicious dishes you'll ever taste. The restaurant has been serving customers for many years and prides itself on its authentic recipes, using only the freshest ingredients to create amazing flavors.
One of the most popular dishes at Puri Guliani is their "Acharuli Khachapuri".Another must-try dish is their "Ponchiki", which is loved by many customers.
If you're looking for something vegetarian, "Puri Guliani" also has an extensive menu filled with vegetarian options like "Colorful Salad of Tomato".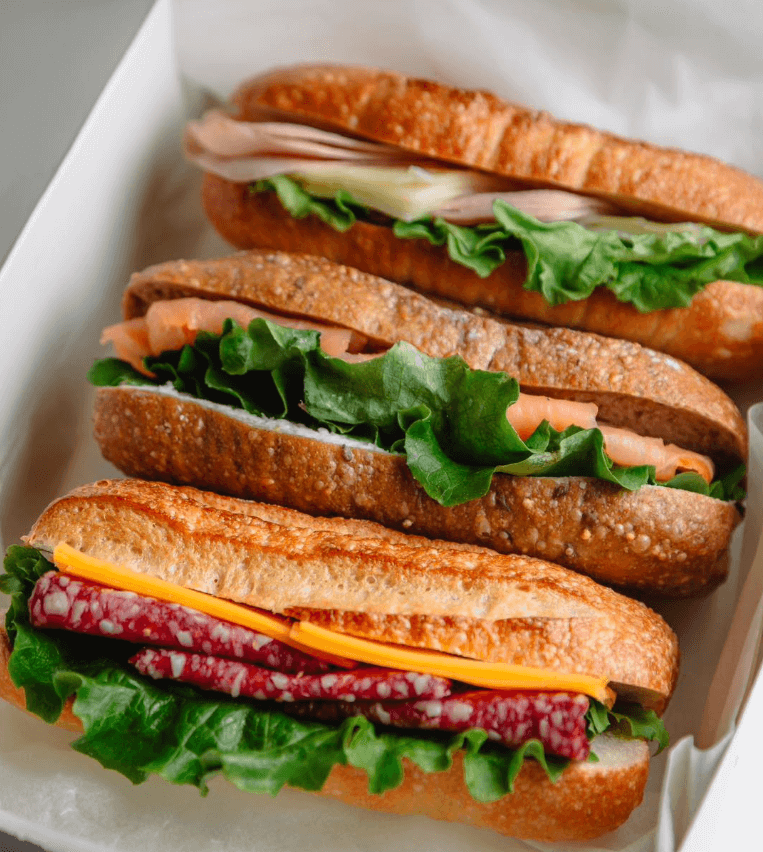 source: Puri Guliani
8)Badagoni Home
Badagoni Home at Liberty Square is one of the most amazing restaurants in Tbilisi that you must visit. The restaurant is located in a perfect location, right at the heart of the city center, offering stunning views of Liberty Square.
The interior design of Badagoni Home is absolutely breathtaking. The restaurant boasts an elegant and modern decor with comfy seating arrangements that make it perfect for dining and socializing with friends and family. The restaurant also features a beautiful outdoor terrace where you can enjoy your meal while soaking up the fresh air.
Badagoni Home serves some of the best Georgian cuisine in Tbilisi. Their menu offers a wide variety of Georgian dishes, including Khinkali, Khachapuri,Mtsvadi and many more mouth-watering delicacies that will leave your taste buds wanting more.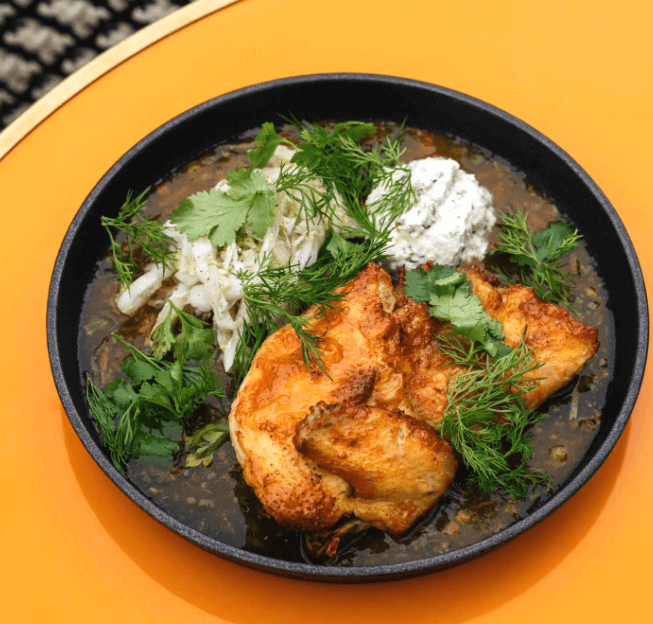 Source: Badagoni Home
9)Sharbati
Sharbati is a restaurant located in Georgia that offers an amazing culinary experience with a great contrast of Asian and European culture. As soon as you step inside, the beautiful aroma of spices will immediately draw your attention. The restaurant boasts an extensive menu that showcases authentic dishes from India, Pakistan, and several other countries.
One of the most impressive things about Sharbati is their ability to infuse bold flavors into every dish without overpowering any individual ingredient. The chefs are highly skilled in balancing complex spice blends and cooking techniques to create delicious meals that will leave you wanting more. Whether it's the succulent chicken tikka masala or the spicy lamb vindaloo, each dish is cooked to perfection with great care and attention to detail.
The interior of Sharbati is equally impressive with elegant decor that features intricate details inspired by both Asian and European cultures.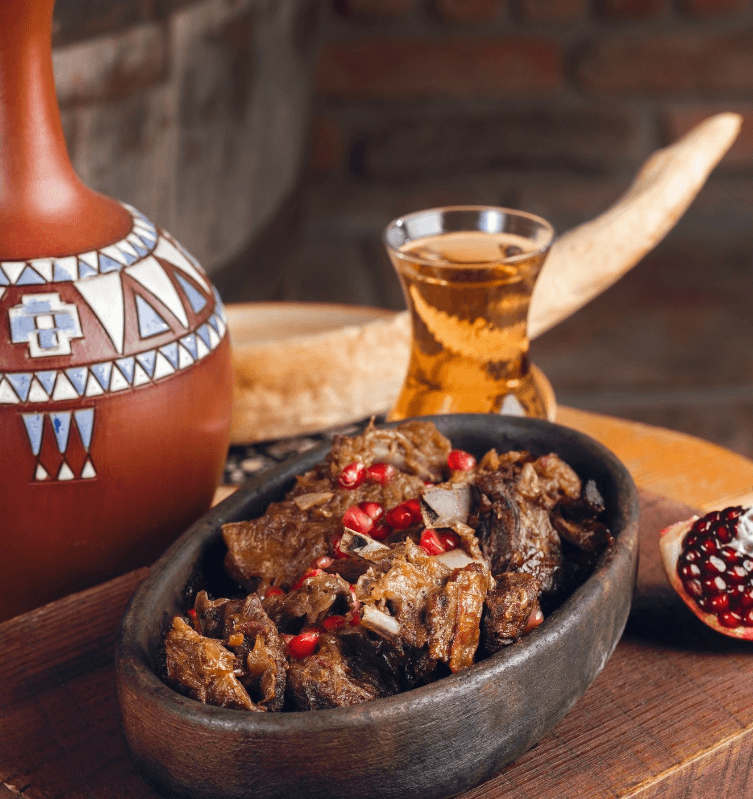 Source: Sharbati
10)Bazzar Restaurant
Bazzar Restaurant is a must-try for anyone looking for a dining experience that ticks all the boxes. The restaurant boasts a friendly and knowledgeable staff who are eager to make your visit memorable. Their warm smiles and engaging personalities will put you at ease, making your meal all the more enjoyable.
But Bazzar is not just about its outstanding service. The restaurant has a modern design that will leave you feeling impressed from the moment you walk in. With sleek lines and contemporary touches, it's clear that every detail has been carefully considered to create an inviting atmosphere.
Of course, we can't forget about the food! Bazzar's menu features a range of delicious dishes that are sure to delight your taste buds. From classic comfort foods with a twist to exciting culinary creations, there is something for everyone here.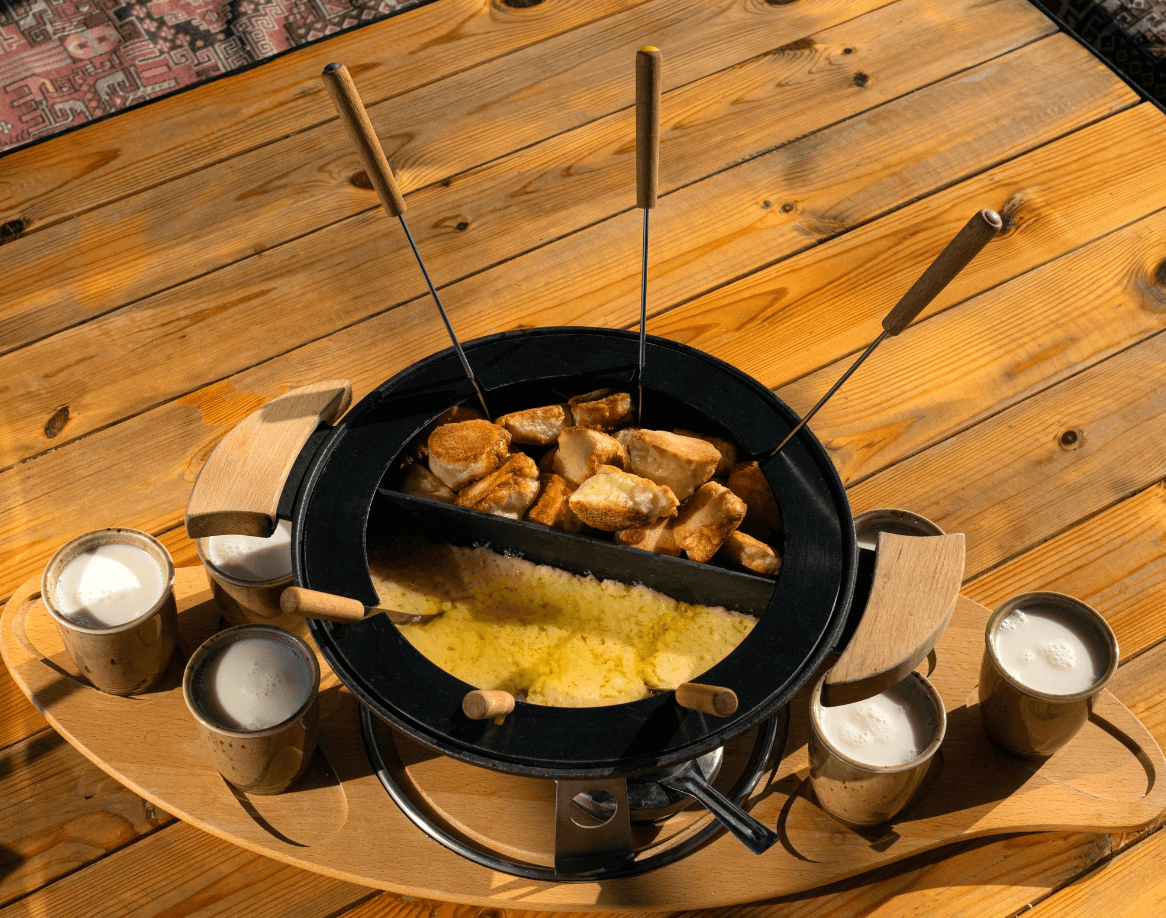 Source: Bazzar Restaurant
Georgian Food You must Taste!
As we already mentioned, there are many amazing and extraordinary places in Tbilisi where you can taste some of the most delicious food in the world, and it's a fact that Georgia has one of the oldest cultures and most tasty foods.
Here is the list of dishes we recommend to taste while being in Georgia and while visiting those amazing places.
1)Shkmeruli
Shkmeruli is one of the most wanted Georgian dishes. The roots of this food is in Racha and it has its name after the village of Racha - Shkmeri. It's a Juicy fried chicken soaked in Garlic sauce - which is the main part of the dish and it makes it way more delicious.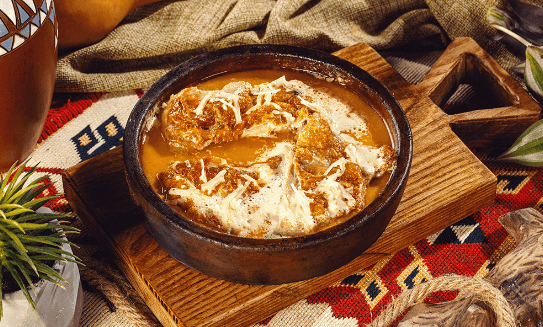 2)Khinkali
Khinkali is indeed a legendary food, because it was made in the 13th century and today it's still relevant and part of Georgian gastronomy culture. Khinkali is filled with pork/beef mix. Dough is made of salt and flour, then whisk in the eggs, Water and fold together until a dough forms.
3)Kharcho
Kharcho is a traditional Georgian food that contains beef, rice, cherry plum and chopped walnuts. You can eat Kharcho with crusty bread, or with Khachapuri. Kharcho is a little bit spicy because it belongs to western Georgia - Samegrelo and Guria and they definitely prefer food that is more spicy!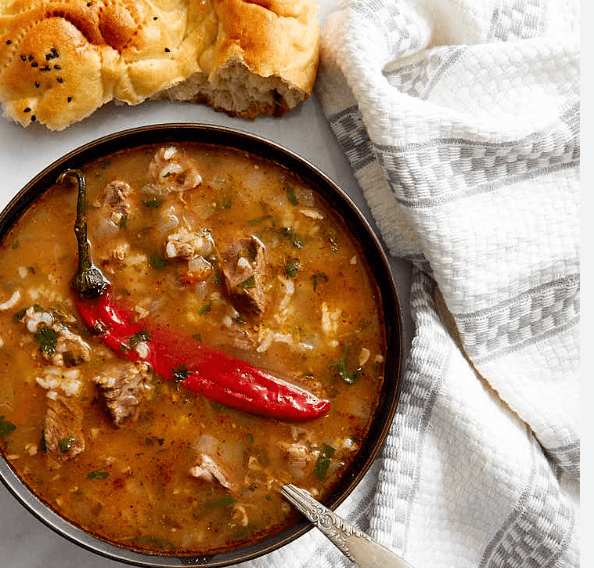 4)Ojakhuri
Ojakhuri is a Georgian dish that consists Meat, for example, beef, chicken, pork or lamb and potatoes. It is a Family meal in Georgia so that's why it's called "Ojakhuri".
Every family here has a different recipe and variations for this dish.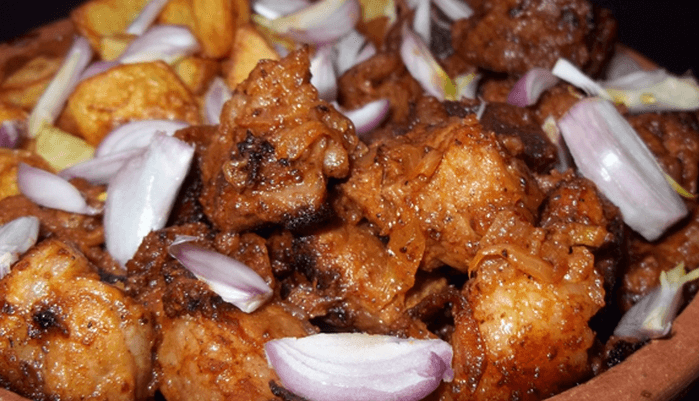 5)Kupati
Kupati is a Georgian Sausage that is made from pigs or beef intestines. The intestines must be taken out well because not all intestines are suitable for the preparation.
Kupati is Megrelian food and as you may already know, Megrelians are known for spicy food so be ready!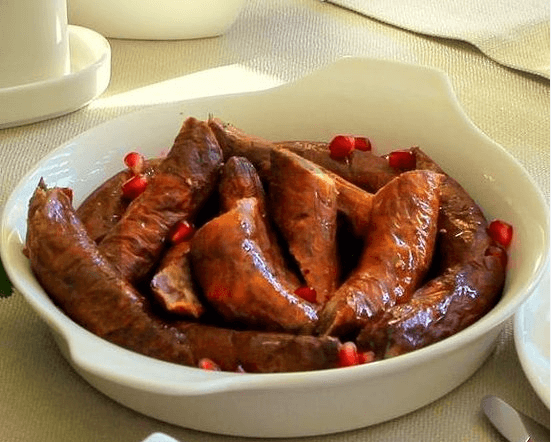 Tbilisi meal time - How and Where to eat Like Georgian?
Breakfast
Georgian people eat their breakfast during 09:00 - 12:00 - And it's usually Tea or coffee with something sweet, Or Bread with Butter and Cheese.
As we mentioned above - Puri Guliani offers great food and also breakfast, and if you want to have a taste of Georgian Breakfast, you can visit that place!
Lunch
On lunch - From 12:00 - 15:00 Georgian people eat something light like salad, Sandwich with juice, or second cup of Coffee.
For Lunch time, you can visit Melograno and eat meals like Salad "Caesar", "Tender Steak Salad", "Octopus Salad," "Shrimp Salad" and more.
Dinner
Geogians usually start dinner at 19:00 - 21:00 - And They eat beef related food mainly. For example, "Ojakhuri", Soups and things like that.
For the Dinner you can visit "Shavi Lomi" or "Veraze" Because they mainly suggest to customers the kind of dinner Georgian people usually eat.
In Conclusion
In conclusion,Georgian Bar and Restaurants offers a wide range of food options for visitors to enjoy in Tbilisi. From Georgian specialties to international cuisine, there's something for everyone on the menu. Be sure to check out the restaurant's website for more information about their menus and dining experiences.

If you want to have some of the best experiences in Georgia - Check out Masterclasses you can have with Archeo - For Example - Wine Masterclasses and Khachapuri Masterclasses