EURO U21 2023 In Georgia and Romania - Information about prices, tickets and matches
1)Where can you buy tickets for EURO U21 2023?
3) Where is the EURO U21 gonna be played?
4)Where can you stay during the course of the championship?
From June 21 to July 8, 2023, the competition will take place in Cluj-Napoca, Bucharest, Batumi, Kutaisi, and Tbilisi.
Where can you buy tickets for EURO U21 2023?
Euro 2023 U21 Georgia is just around the corner and fans are eagerly waiting for the event to commence. If you're one of those fans who wants to experience the thrill of live football action, then you must be wondering where to buy tickets for this event. Well, don't worry, we've got you covered.
One way to purchase tickets is through the official UEFA website where Euro 2023 U21 Georgia tickets will go on sale closer to the event date. Fans can create an account and log in to see available tickets and prices. Another option is through authorized resellers such as Ticketmaster or StubHub, which may offer a wide range of ticket options including VIP packages and hospitality services.
It's important to note that ticket prices may vary depending on the seating category and location within the stadium.
In order to follow the UEFA Euro 1923 competition, it is necessary to purchase tickets. The event will take place in two different countries- Romania and Georgia. In Romania, the matches will take place on three days, while in Georgia they will be on four days. Tickets can be bought either online or through more traditional methods such as going to a shop near the stadium. Scouting information for the competition is available online as well as from many journalists who will be covering the event.
Matches in Georgia: under21tickets.ge
Matches in Romania: under21tickets.ro

EURO U21 2023 Schedule
The 24th iteration of the biennial international youth football competition held by UEFA for the men's under-21 national teams of Europe will be the UEFA European Under-21 Championship, also known as UEFA Under-21 Euro 2023 (or the 27th if the Under-23 era is also included). The final event will include 16 teams and only players born on or after January 1, 2000 are qualified to compete.
Romania and Georgia will share hosting duties for the competition. The final will be held in Georgia, while Romania will host the first game. The 1998 UEFA European Under-21 Championship was held in Romania.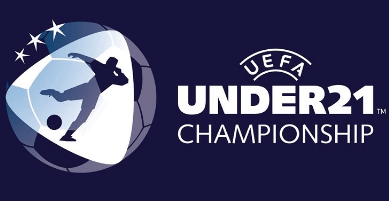 Where is the EURO U21 gonna be played?
Georgia
Batumi, Batumi Arena: 3 Group C games, Semi-final, Final
Kutaisi, Shengelia Stadium: 3 Group C games, Quarter-final
Tbilisi, Meskhi Stadium: 3 Group A games, Quarter-final
Tbilisi, Paichadze Stadium: 3 Group A games (involving Georgia)
Romania
Bucharest, Giulești Stadium: 3 Group B games, Quarter-final
Bucharest, Steaua Stadium: 3 Group B games (involving Romania), Semi-final
Cluj-Napoca, CFR Cluj Stadium 3 Group D games
Cluj-Napoca, Cluj Arena: 3 Group D games, Quarter-final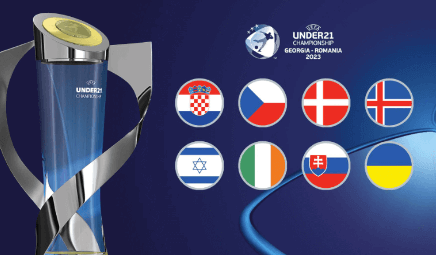 The ticket process
For scouts, a unique ticketing process has been established.
Scouts must submit their requests for tickets via the LOS scout ticketing platforms.
Games in Georgia: https://gff.ge/under21/en/scout-registration/
Games in Romania: https://under21tickets.ro/util/formular-scouts/
The terms and conditions must be agreed to at the time of the request, along with proof of eligibility (such as a scout ID or a letter of confirmation from a club or national association).
• Only one scout from each organization is allowed into each game, and each scout may order a maximum of two tickets. Each day, a single match may be chosen.
• Group stage ticket applications must be submitted by May 19—one month before the event begins. All reserved tickets that haven't been picked up by scouts return to the open market after that. Scouts must purchase their tickets through the normal sale channels because requests submitted after the cutoff time will not be taken into consideration.
• During the following times, scouts can order tickets for the knockout round:
The portal will be open for business on June 28 and 29, and tickets will be distributed on June 30.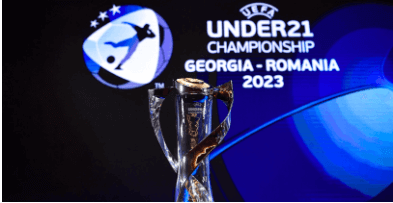 Semi-finals: the portal will be open between July 2 and 3, and tickets will be distributed on July 4.
Final: The site will open on July 6 and tickets will be distributed and confirmed on July 7.
• Scouts must pay for their tickets, which are issued on a first-come, first-served basis.
• The sole form of ticket available is an electronic print-at-home ticket.
Where can you stay during the course of the championship?
The championship is an exciting event that draws in large crowds from around the world. If you're planning to attend, one of the most important things to consider is where you'll be staying during your visit. Fortunately, there are plenty of options available that cater to a variety of budgets and preferences.
Us, Archeotour, recommend different types of hotels and apartments where tourists can stay! Not only in Tbilisi, but in Kutaisi and Batumi Also!
You also can see an article about Top 10 Places you can stay in Tbilisi!
Kutaisi - Hill Hotel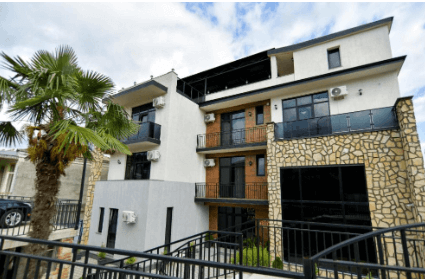 The Hill Hotel in Kutaisi is a luxurious and modern hotel located in the heart of Georgia's second-largest city. The hotel boasts magnificent views of the surrounding hills and lush greenery, providing guests with an escape from the hustle and bustle of city life. The hotel's prime location also makes it a great base for exploring Kutaisi's rich history and culture.
The rooms at the Hill Hotel are spacious, well-appointed, and designed to provide maximum comfort to guests. Each room comes equipped with all modern amenities, including air conditioning, flat-screen TVs, minibars, high-speed Wi-Fi access, and en-suite bathrooms with complimentary toiletries. Guests can choose from a range of room types that cater to different needs - from cozy standard rooms to luxurious suites with private balconies overlooking the stunning surroundings.
The Hill Hotel offers plenty of facilities for its guests' enjoyment.
Batumi - hotel bloom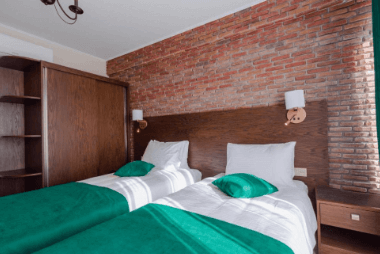 Nestled in the heart of Batumi, Hotel Bloom offers luxurious accommodations and top-notch amenities for travelers seeking a memorable stay. With its sleek and modern design, this hotel stands out as one of the best properties in the city. From its prime location to its exceptional service, Hotel Bloom promises an unforgettable experience for all guests.
Conclusion
In conclusion,EURO U21 2023 is an event that is sure to attract attention in both Georgia and Romania.Tickets are available at a very affordable price, making it the perfect opportunity for those who want to watch the game.Both countries offer some of the best footballing facilities in the region, so it is sure to be a memorable event for all.
Archeotour is committed to providing personalized service, and we tailor our tours to meet the needs and preferences of each traveler. We believe that traveling is about creating unforgettable memories, making new friends, and discovering the beauty of the world we live in. Come join us and discover the best that Georgia has to offer with Archeotour. Contact us today at info@archeotour.ge or call us at (995) 593 272 436 to book your tour.