Top 10 places to Stay in Tbilisi
Nestled in the heart of the Caucasus Mountains, Tbilisi is a city like no other, with its unique blend of modern and ancient architecture, rich history, and vibrant culture. Whether you're planning a romantic getaway or an adventurous solo trip, there are plenty of amazing places to stay in Tbilisi that will cater to your needs. From luxurious boutique hotels to affordable hostels, we've shortlisted the top 10 high-quality accommodation options to help you make the right choice for your next trip to this captivating city. So read on and discover some of the finest locations to stay in Tbilisi that promise an unforgettable experience.

Here is the list of Hotels we totally recommend for a perfect vacation in Tbilisi!
1)Gulf Aquamarine Hotel
Looking for a comfortable and convenient place to stay in Georgia? Look no further than Alliance Hotel Tbilisi! Nestled in the heart of the city, this welcoming hotel offers a convenient location for business and leisure travelers alike.
The rooms are stylishly appointed and feature all the amenities you need for a comfortable stay, including air conditioning, free Wi-Fi, and flat-screen TVs. The hotel also offers a range of convenient services, such as laundry facilities and a 24-hour reception desk.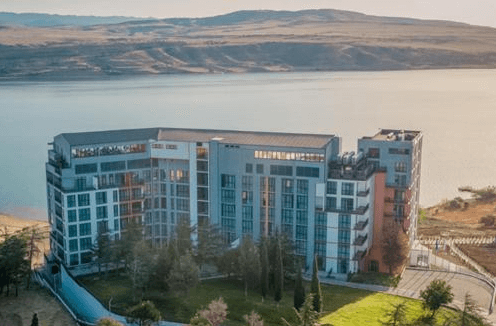 Guests can start their day with a delicious breakfast in the on-site restaurant or relax with a drink in the cozy lobby bar. And with its central location, Alliance Hotel Tbilisi is the perfect base from which to explore all that the vibrant city of Tbilisi has to offer.
So whether you're here for business or pleasure, let Alliance Hotel Tbilisi be your home away from home in Georgia. Book your stay today and enjoy a warm welcome, comfortable accommodations, and exceptional service!
2)Hotel Atlas - Abashidze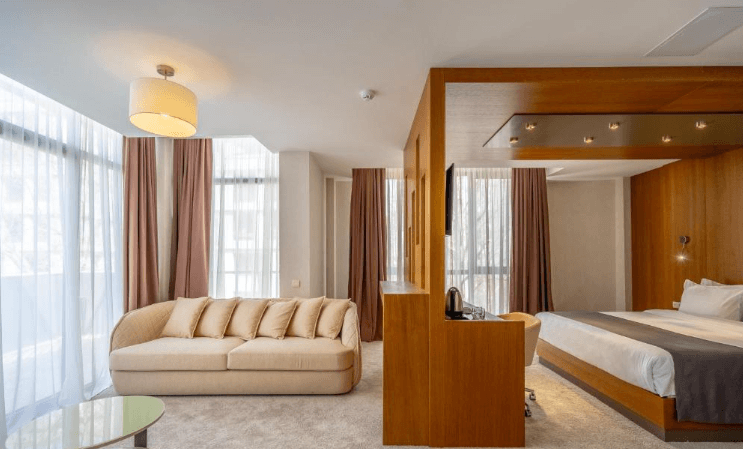 The Atlas Abashidze Hotel in Tbilisi offers comfortable and modern accommodations for travelers. Each room includes a flat-screen TV, private bathroom, and patio with a city view. Guests can enjoy a continental or buffet breakfast during their stay. The staff is wonderful and attentive to guests' needs. Although the rooms are spartan, they are clean and comfortable. The hotel is ideal for both business and leisure travelers.
3)Orbeliani Residence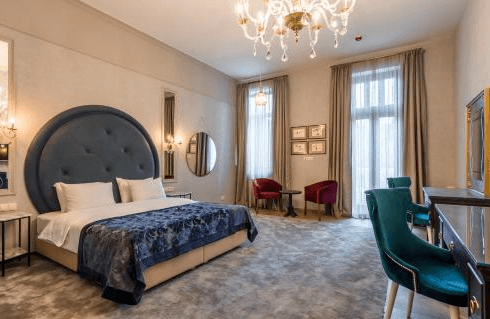 Located in the heart of Tbilisi, Orbeliani Residence is a luxurious apartment complex that combines modern living with authentic Georgian architecture. Each apartment is elegantly designed with high-quality materials and exclusive features such as fireplaces, balconies with city views, and fully equipped kitchens. The building also offers a fitness center, spa, and 24-hour security and concierge services. With its prime location, residents can easily access nearby restaurants, cafes, and cultural attractions. Experience the best of Georgian hospitality and luxury living at Orbeliani Residence.
4)Gold Tbilisi Hotel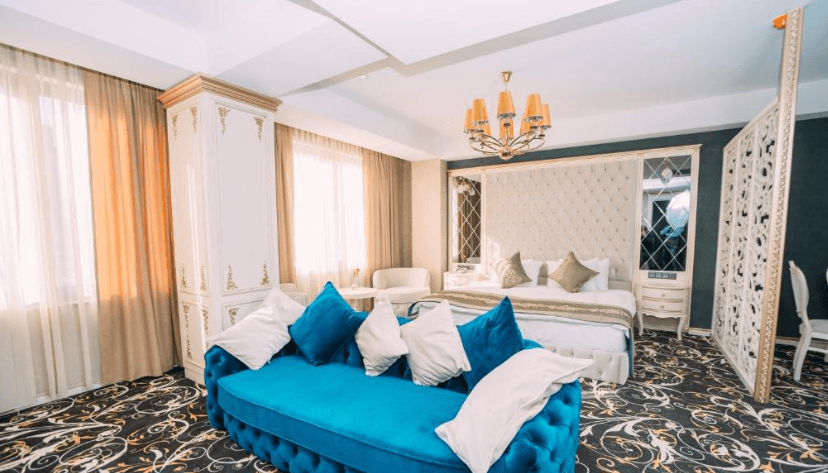 Gold Residence Tbilisi is a delightful accommodation option situated in the heart of Tbilisi, Georgia. The property is conveniently located just 3.9 miles away from the Rustaveli Theater, making it an ideal choice for travelers who are looking for a comfortable and convenient stay.
The residence offers cozy and well-furnished rooms that come equipped with all the necessary amenities such as a garden, free private parking, and a non-smoking environment. The apartments also feature a kitchenette, allowing guests to prepare their own meals if they choose to.
Guests can enjoy easy access to some of the popular tourist attractions such as Tbilisi Opera and Ballet Theatre, Tbilisi Central Train Station, and Sameba Cathedral. The excellent location combined with the comfortable and welcoming ambiance of Gold Residence Tbilisi makes for an unforgettable stay. Book now and experience a truly memorable holiday in Tbilisi!
5)Vera Hills Boutique hotel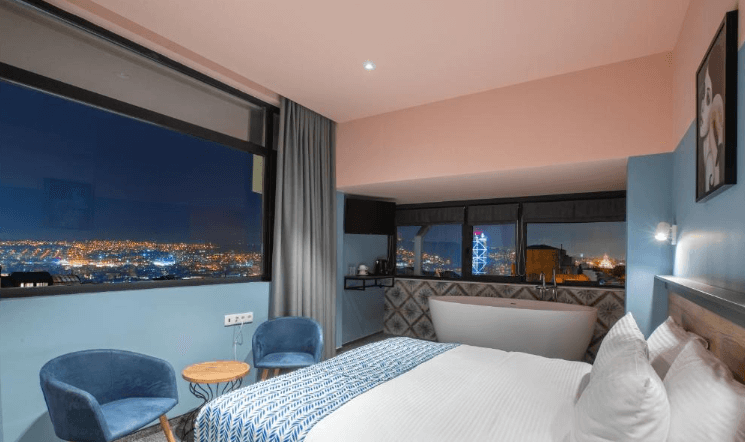 Vera Hills Boutique Hotel is a 3.5-star hotel located in Tbilisi, offering guests a comfortable and convenient stay. The hotel boasts 6 elegant rooms, including family and twin/double rooms. The air-conditioned rooms are equipped with all necessary amenities, such as a wardrobe, kettle, minibar, safety deposit box, flat-screen TV, and a private bathroom with a bidet.
Guests are treated to free breakfast, free WiFi, and free parking during their stay. Moreover, the hotel is conveniently located near popular attractions such as Tbilisi Concert Hall and Mtatsminda Mountain. Sightseeing enthusiasts can visit Freedom Square, Tbilisi City Hall, and Rustaveli Theatre, which are all within a 5-minute drive from the hotel.
At Vera Hills Boutique Hotel, guests can unwind in a serene atmosphere, overlooking beautiful views of the city from the hotel's windows. The hotel also features a patio, a sun terrace, and a sunbathing area, perfect for relaxing during a pleasant summer day.
6)Citrus Tbilisi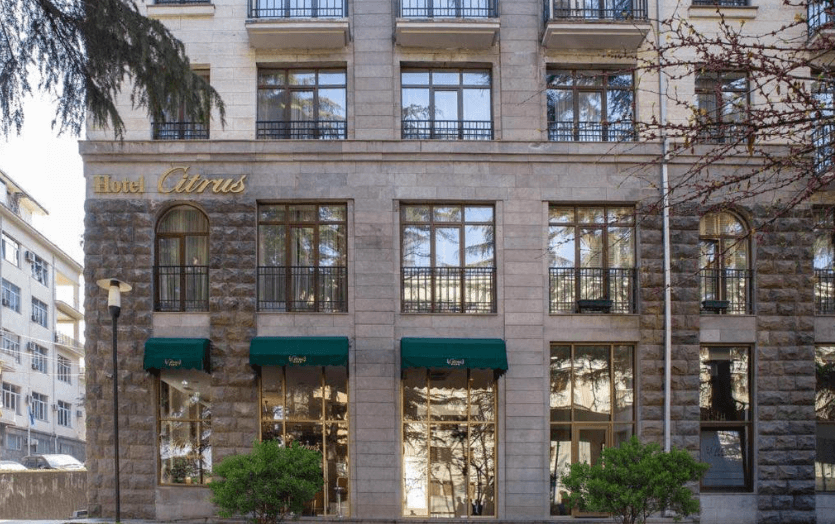 Citrus Hotel Tbilisi is a four-star hotel located in the heart of Tbilisi City Center. This comfortable hotel is just a 7-minute walk from Freedom Square and is situated next to the Parliament of Georgia, making it an ideal location for tourists or business travelers wanting to explore the city. The hotel is also located near popular attractions such as the National Art Museum and Rustaveli Avenue, which is just a 5-minute walk away.
The hotel provides 24-hour room service and shuttle service for its guests, and its rooms are equipped with air conditioning and minibars, making it a family-friendly hotel. Guests can stay connected to the internet during their stay with Wi-Fi available throughout the hotel. Additionally, the hotel offers basic facilities such as a fitness room, bar, restaurant, swimming pool, spa, and parking. Pets are also welcome at the hotel.
The hotel is located just a 5-minute walk from Liberty Square metro station, making it easy to explore the city's many attractions. The city center is only 2 km away from the hotel, making it an excellent location for sightseeing. There are also many restaurants in the area, such as Grandmas Chef, which is just a minute away.
7)Vinum Hotel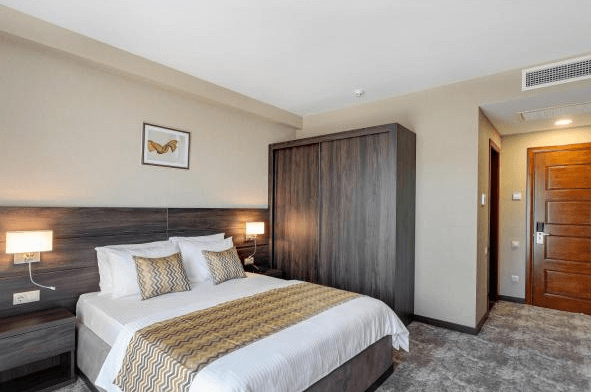 Vinum Hotel Tbilisi is a new boutique hotel that offers luxurious accommodation in one of the oldest parts of Tbilisi. This 4-star hotel is conveniently located on 35/16 Doesi Street, just 2.9 km from the city center. The hotel boasts a seasonal outdoor swimming pool, garden, terrace, and bar where guests can relax and unwind. A tour desk is also available for guests who want to explore the city.
Vinum Hotel's prime location makes it an ideal choice for travelers who want to explore the city's attractions. The hotel is close to several landmarks, including the Old Town, Freedom Square, and the National Museum of Georgia.
8)Brim Tbilisi
Brim Hotel Tbilisi is a modern and stylish hotel located in the heart of the city. Situated just a 10-minute walk from the historic Old Town, this hotel is the perfect choice for those wanting to explore the city's cultural and artistic spirit. The hotel's exterior is a work of art, seamlessly blending urban elements with contemporary design.
The property offers comfortable and well-appointed accommodation, including a rooftop terrace with stunning city views. The hotel features a restaurant and bar, serving delicious local and international cuisine, and private parking is also available.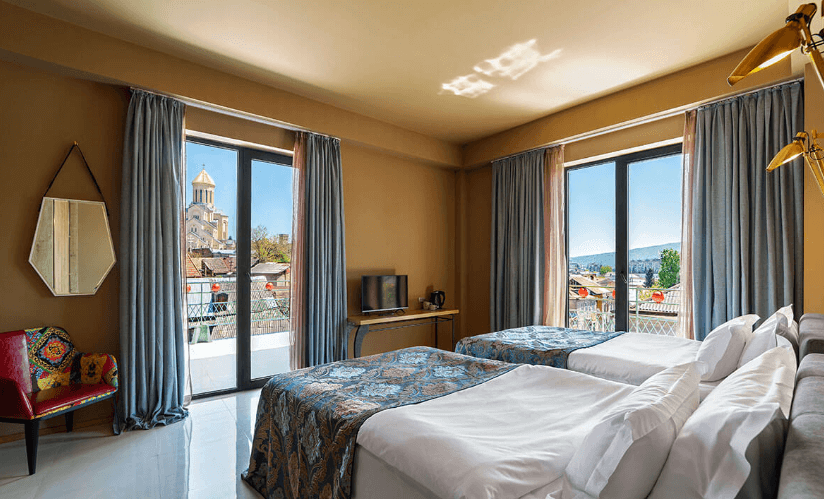 Brim Hotel Tbilisi is conveniently located just 1.4 km from Freedom Square, and is near the airport and a metro station. Rustaveli Cinema and Rezo Gabriadze Puppet Theater are also nearby.
Overall, Brim Hotel Tbilisi is a top choice for travelers seeking a boutique hotel experience in one of the city's oldest and most vibrant neighborhoods. With its prime location, stylish design, and excellent service, Brim Hotel is sure to exceed your expectations.
9)Alliance Hotel
Alliance Hotel, located in the picturesque green residential area of Saburtalo in Tbilisi, is the ideal destination for those seeking peace and tranquility. The hotel offers a range of comfortable and spacious rooms, equipped with all modern amenities. Complimentary Wi-Fi and parking are available for guests.
The hotel is conveniently located just a 10-minute drive from Tbilisi's Old City, making it the perfect base for exploring the city's historic sites and cultural attractions. Alliance Hotel is also situated near public transport links, including a metro station, ensuring easy access to all areas of Tbilisi.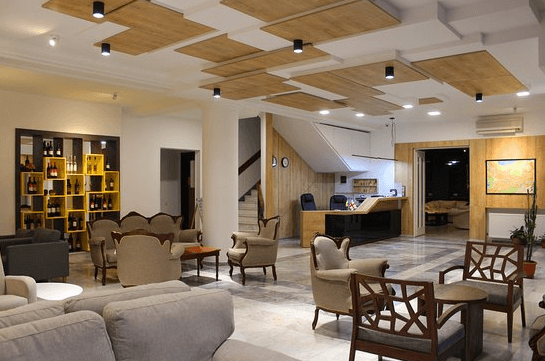 Alliance Hotel features a winery and a range of wellness facilities, including steam rooms and a wellness center. Relaxation comes easy at this hotel, where guests can unwind after a day of exploration or work.
At Alliance Hotel, guests will enjoy a warm welcome and attentive service from friendly staff. The hotel is committed to providing a comfortable and stress-free stay, with a 24-hour airport shuttle service available for guests.
Overall, Alliance Hotel is the perfect choice for those seeking a peaceful and convenient location in the heart of Tbilisi.
10)KMM Hotel
KMM Hotel Tbilisi is a luxurious and modern hotel located in the heart of Tbilisi, Georgia. The hotel offers 110 bedrooms, all of which are elegantly decorated and equipped with modern amenities such as air conditioning, flat-screen TV, minibar, and private bathroom.
The hotel features an on-site restaurant serving delicious Georgian and international cuisine, as well as a bar that offers a wide selection of drinks and cocktails. Additional facilities include a fitness center, a rooftop terrace with stunning views of the city, and a conference room for business meetings and events.
The hotel is conveniently located just a short walking distance from major tourist attractions such as Freedom Square, Tbilisi Opera and Ballet Theatre, and Rustaveli Avenue. The hotel also provides a complimentary shuttle service to Tbilisi International Airport.
If you are looking for a comfortable and stylish stay in Tbilisi, KMM Hotel Tbilisi is the perfect choice. With its excellent location, exceptional facilities, and friendly staff, you are guaranteed a wonderful experience.
Best Neighborhoods for Tourists
A thorough neighborhood guide for Tbilisi that will assist you in selecting a place to remain in Tbilisi based on your interests, preferences, and spending capacity.
Tbilisi is a modestly sized metropolis by most standards. The various neighborhoods and districts, however, vary greatly from one another.
This Tbilisi neighborhood guide is mainly intended for transient visitors to Georgia. However, it might be helpful if you're moving to Tbilisi when deciding where to reside. I always advise visiting a few diverse neighborhoods to determine which one is best for you.
1) Sololaki
The oldest planned residential neighborhood in the city, or "neighborhood," is known as Sololaki in Tbilisi. With its neatly gridded streets, it can be readily differentiated from the interior of Old Tbilisi as it extends westward from Freedom Square up towards Mtatsminda.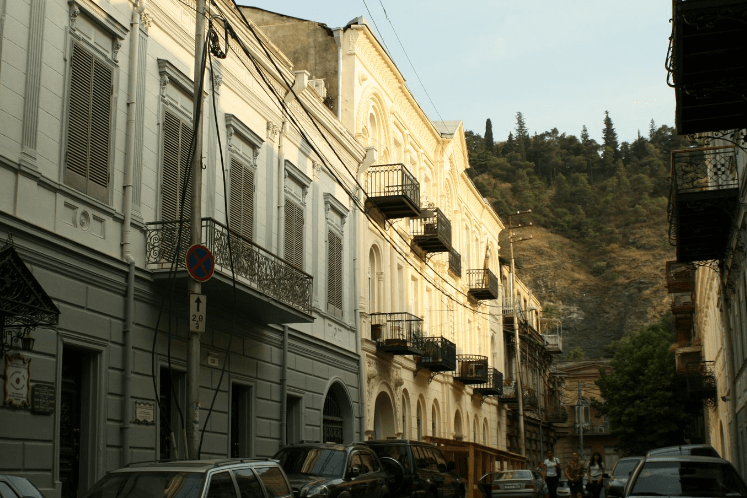 When Tbilisi grew under the control of the Russian Empire and outgrew its walled boundaries, Sololaki was created. It was a place where nobles constructed lush gardens when it was still known as Avanantkhevi. The city's wealthiest businessmen and merchants constructed their European-style mansions in Sololaki as the 19th and 20th centuries drew to a close. In this region, you can find some excellent specimens of Art Nouveau and neo-Moorish architecture.
2)Saburtalo
The expansive residential neighborhood of Saburtalo defines Tbilisi's northern boundary and is located above Vake. Delisi, Vedzisi, and Bakhtrioni are just a few of the neighborhoods it includes. It also has its own metro route, which makes getting around very simple.
Compared to the rest of Tbilisi, Saburtalo is unique. The majority of the buildings were built during the Soviet era, and concrete fully dominates the landscape. (although there are parks, street art and sidewalk cafes to soften the edges). International students and expats love Saburtalo because it's so simple to locate a good apartment. Because it's farther from the center (about 5-10 km from Freedom Square), buildings are typically better built for natural light and ventilation, and prices tend to be a little bit lower.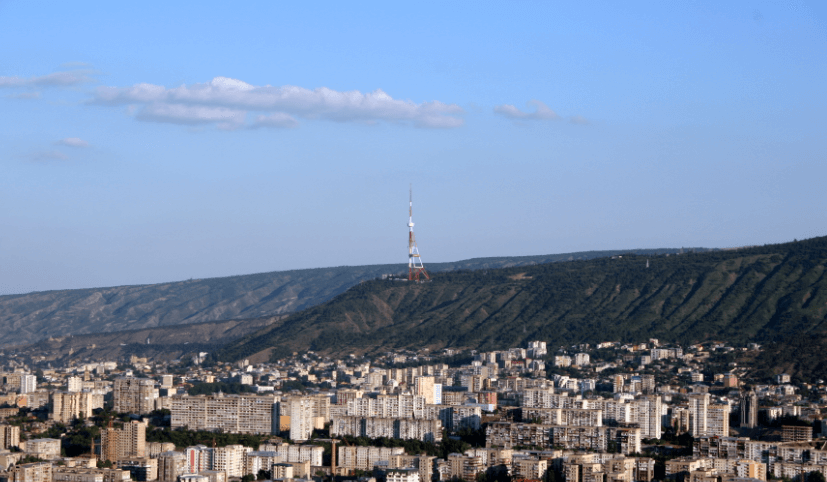 However, because Saburtalo is so far from the city center, there are moments when you feel cut off from it. Use public transportation (the metro) rather than a taxi during rush hour because the gridlock is terrible. There are many fantastic local eateries, including Amra and Shin-Aura, fascinating structures, like the well-known Tbilisi Sky Bridge, as well as numerous stores and inexpensive bakeries.
Overall, Saburtalo is a fantastic option for travelers on a budget, but it's better adapted to extended stays. If you're only visiting the city for a few days and sightseeing is your top concern, stay near the center.
3)Vera
On the west shore of the river is a historic residential neighborhood called Vera. Running along the river and up the slope toward Vake, it begins at the top of Rustaveli (where the avenue becomes Kostava Street). The Vera river, which borders the neighborhood to the north, inspired the neighborhood's new moniker, which was formerly known as Skvireti. It was once much larger, but due to subdivision over the years, it is now only a small portion of its original area.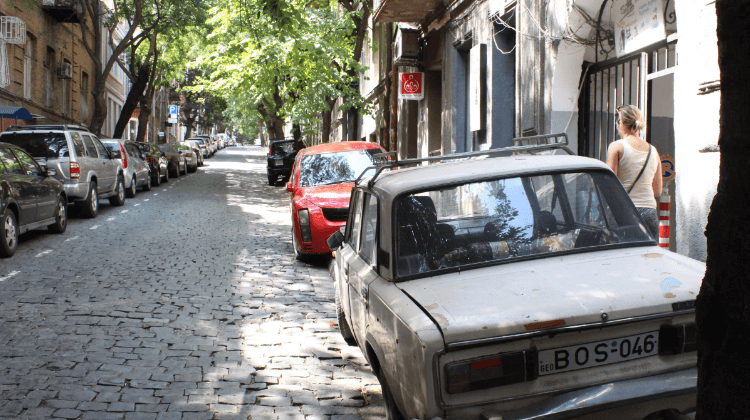 photo source: Expedia
Vera is a very upscale and fashionable brand overall. As a consequence, lodging may be more expensive. Rustaveli metro stop is the closest and is 5–10 minutes' walk away. Public transportation is easier to reach on Lower Vera, which is the bottom section closest to the avenue.
Location overall: 4.5 out of 5;
close to Rustaveli Avenue and the Old Town.
4/5 - Nearby Rustaveli Avenue subway and buses
pubs and restaurants: Fantastic wine bars, specialized coffee shops, and modern Georgian restaurants earn a perfect score.
4)Chughureti
Another ancient neighborhood on Tbilisi's Left Embankment is Chugureti, which is also known as Marjanishvili, Vorontsovi, or Plekhanov. The term, which is derived from the Turkish word Chugur, is Georgian for "deep plateau" or "pit." Chugureti is a part of the larger Didube-Chugureti neighborhood, which stretches all the way to the city's primary marshrutka hub, Didube Bus Station, in the north.
Before it was incorporated into the city in the 1820s, this area of Tbilisi was a German settlement known as Neu Tiflis. It has a number of micro-districts, such as Okrosubani, Plekhanov, and Vorontsov, all of which have incredibly distinctive architectural styles. One of my favorite places is Chugureti because it's both lovely and a little bit dangerous.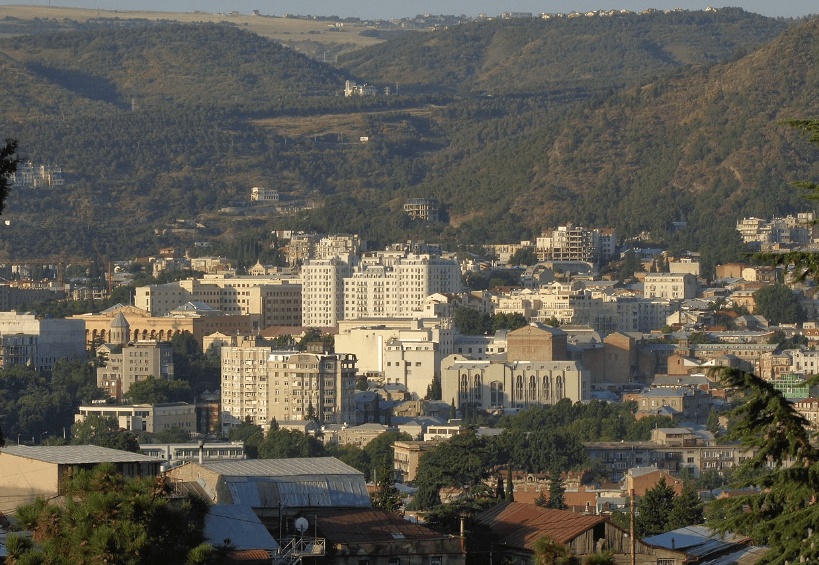 Perhaps Chugureti is best known for being the location of Fabrika, the center of Tbilisi's arts and entertainment scene. The city's center, Agmashenebeli Avenue, is home to some of Chugureti's most exquisitely renovated facades. I advise you to avoid the pedestrianized section of the road because it is very touristy and a known hotspot for scams.
In conclusion
Finally, We can say that in Tbilisi we have many high-class Hotels where you can stay during a vacation!
We love our customers and our company will give you the best traveling advice and recommendations you will need!
Archeotour is committed to providing personalized service, and we tailor our tours to meet the needs and preferences of each traveler. We believe that traveling is about creating unforgettable memories, making new friends, and discovering the beauty of the world we live in. Come join us and discover the best that Georgia has to offer with Archeotour. Contact us today at info@archeotour.ge or call us at (995) 593 272 436 to book your tour.