What to do in Tbilisi if you are stay for one day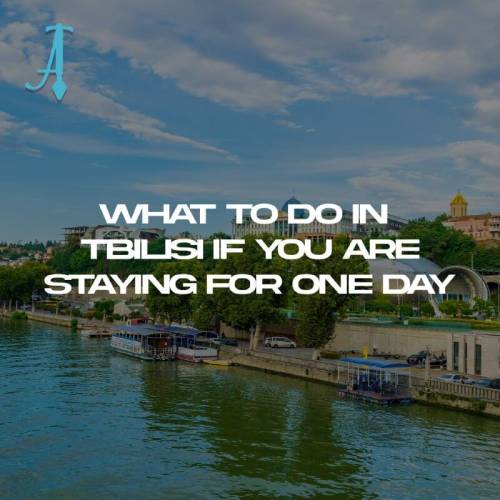 Tbilisi is not a country but the capital city of Georgia, a country located at the crossroads of Eastern Europe and Western Asia. There are several compelling reasons to visit Tbilisi and explore the broader country of Georgia.
Tbilisi is a city with a long and diverse history, and you can see it reflected in its architecture, art, and traditions. The city has a mix of Soviet-era buildings, medieval churches, and modern structures. Explore the Old Town (Abanotubani) to see the ancient baths and narrow cobblestone streets.
Tbilisi boasts a unique architectural style characterized by colorful, ornate balconies and facades. Some notable architectural landmarks include the Holy Trinity Cathedral, Narikala Fortress, and the Peace Bridge.
Which part of Tbilisi is best to stay?
Choosing the best part of Tbilisi to stay in depends on your preferences and what you want to experience during your visit. Tbilisi has a variety of neighborhoods, each with its own charm and attractions. Here are some popular areas to consider:
1. Old Town (Abanotubani)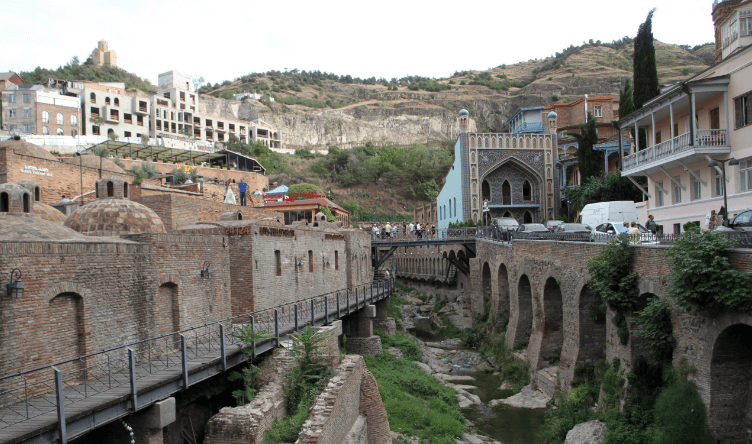 This is the historic heart of Tbilisi, known for its cobblestone streets, colorful balconies, and traditional architecture. It's a great place to stay if you want to be close to historic sites, restaurants, and souvenir shops. Keep in mind that it can get crowded with tourists.
2. Vera
Located just south of the Old Town, Vera is a trendy and up-and-coming neighborhood. It offers a mix of modern cafes, art galleries, and boutiques. It's a good choice if you want to be near the city center but in a more relaxed atmosphere.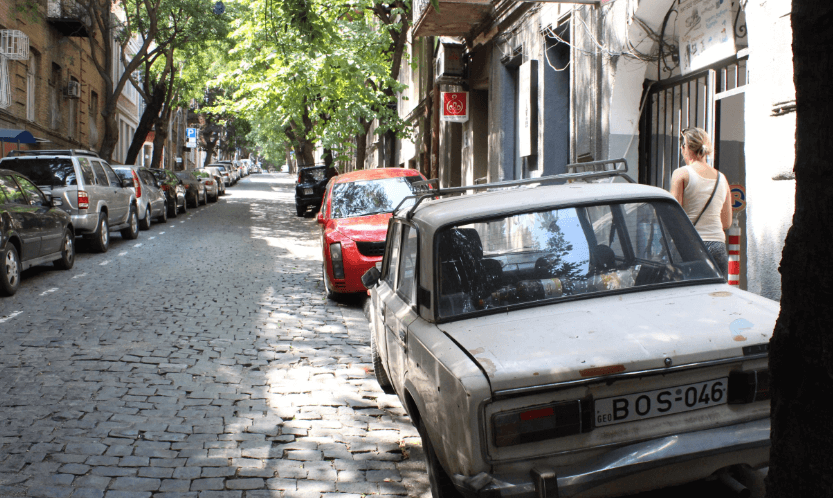 picture from: Expedia.com

3. Avlabari
Situated near the Old Town, Avlabari is a quieter and more residential area. It's known for its views of the Narikala Fortress and the Holy Trinity Cathedral. It's a good option if you prefer a quieter stay while still being close to the attractions.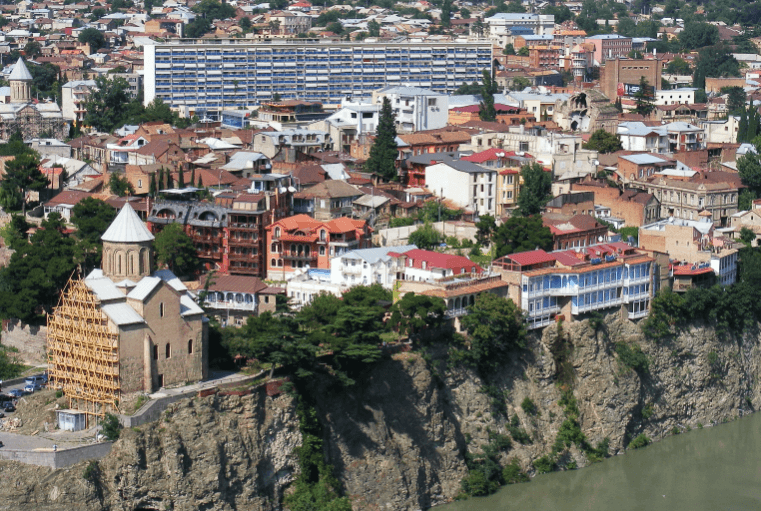 4. Sololaki
Sololaki is a historic district located between the Old Town and Vera. It features elegant 19th-century architecture and offers a blend of residential and commercial areas. It's a great choice for those who appreciate architectural beauty.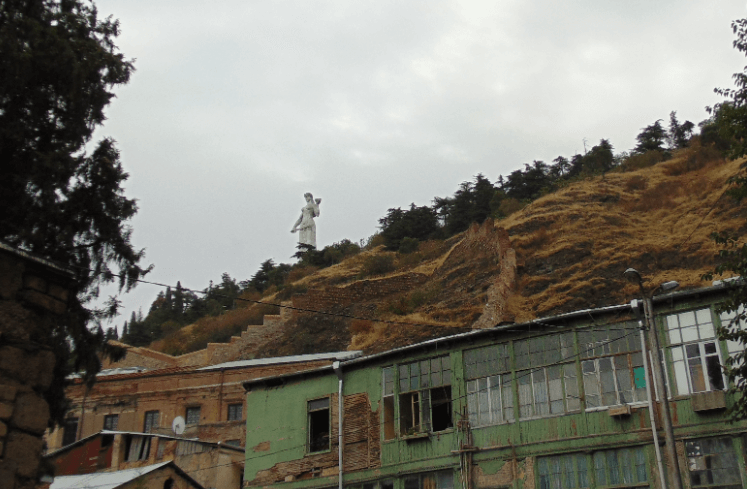 5. Rustaveli Avenue
This is Tbilisi's main thoroughfare and cultural hub. Staying along Rustaveli Avenue will put you in proximity to museums, theaters, and government buildings. It's a bustling area with excellent public transportation connections.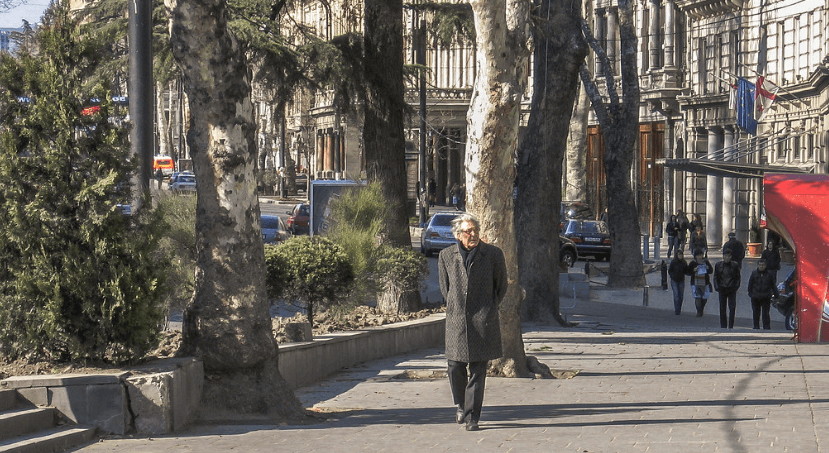 6. Chughureti
If you're looking for a more local experience, Chughureti is a residential area where you can find reasonably priced accommodations. It's a bit farther from the tourist hotspots but offers a taste of everyday life in Tbilisi.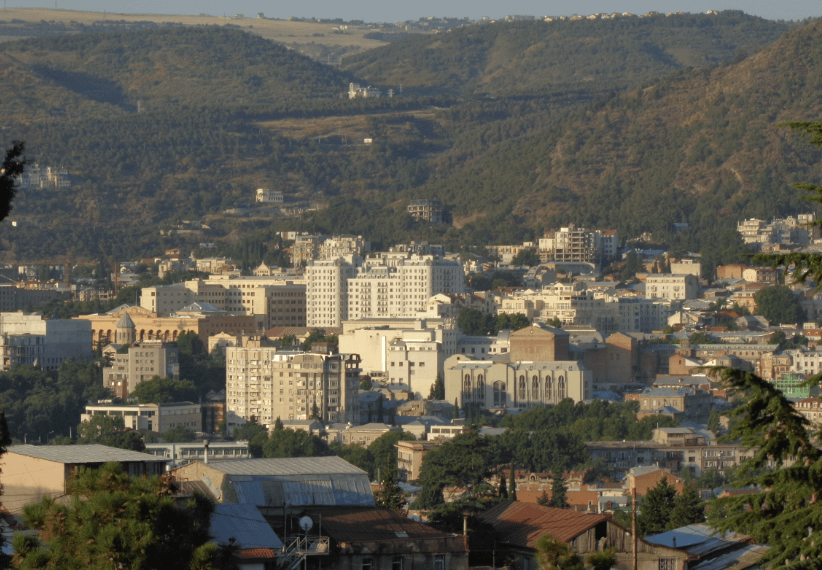 How do you spend a day in Tbilisi?
Spending a day in Tbilisi can be a delightful experience, as the city offers a mix of history, culture, delicious cuisine, and beautiful sights to explore. Here's a suggested itinerary for a day in Tbilisi:
Morning: Exploring the Old Town
1. Breakfast at a Local Café - Start your day with a traditional Georgian breakfast at a local café. Try khachapuri (cheese-filled bread) and khinkali (dumplings) along with some strong Georgian coffee.
2. Narikala Fortress Walk - or take the cable car up to Narikala Fortress. From here, you'll get panoramic views of Tbilisi and the Kura River. Explore the fortress, which has a long history dating back to the 4th century.
3. Botanical Garden -Descend from Narikala to the Botanical Garden, a lush and green oasis in the heart of the city. Stroll through the gardens and enjoy the peaceful atmosphere.
Late Morning: Old Town Exploration
4. Meidan Square - Head to Meidan Square in the Old Town and explore the area's charming streets, souvenir shops, and historical buildings. Don't forget to take photos of the colorful balconies.
5. Sioni Cathedral - Visit Sioni Cathedral, an important religious site in Tbilisi. It dates back to the 6th century and features beautiful frescoes and architectural details.
Lunch: Traditional Georgian Cuisine
6. Lunch at a Georgian Restaurant - Enjoy a traditional Georgian meal at a local restaurant. Order dishes like grilled meats, salads, and more khachapuri or khinkali. Pair your meal with Georgian wine or mineral water.
Afternoon: Cultural and Artistic Exploration
7. Rustaveli Avenue - After lunch, head to Rustaveli Avenue, Tbilisi's main thoroughfare. Explore the avenue's shops, cafes, and cultural institutions.
8. Tbilisi Opera and Ballet Theatre - If there's a performance, consider attending a show at the Tbilisi Opera and Ballet Theatre, an iconic cultural venue.
9. Art Galleries and Museums - Visit one of Tbilisi's art galleries or museums, such as the Georgian National Museum or the Museum of Modern Art, to explore the country's rich cultural heritage.
Evening: Relaxation and Dining
10. Rike Park - Stroll through Rike Park, located near the Peace Bridge. The park often hosts outdoor events and is a great place to relax by the river.
11. Dinner at a Rooftop Restaurant - End your day with a memorable dinner at one of Tbilisi's rooftop restaurants. These venues offer fantastic views of the city along with delicious Georgian cuisine.
12. Evening Entertainment - Depending on your interests, you can explore Tbilisi's nightlife by checking out live music venues, jazz clubs, or simply sipping Georgian wine at a cozy wine bar.
Remember that Tbilisi has a lot to offer, so this itinerary is just a starting point. Depending on your preferences and interests, you can customize your day to focus on the aspects of the city that appeal to you the most, whether it's history, art, food, or simply soaking in the local atmosphere.
Do you need cash in Tbilisi?
Tbilisi, like many modern cities, has a growing number of places where you can use credit and debit cards for various transactions. However, it's still a good idea to have some cash on hand for certain situations, especially when you're traveling in Georgia. Here are some considerations/
1. Cash for Small Purchases
While larger establishments like hotels, restaurants, and major retailers in Tbilisi usually accept cards, smaller businesses, local markets, and street vendors may prefer cash. It's a good idea to have some Georgian lari (the local currency) for small purchases.
2. Rural Areas and Smaller Towns
If you plan to venture outside of Tbilisi to rural areas or smaller towns, it's advisable to have cash, as card acceptance can be limited in these regions.
3. Emergency Situations
Cash can be essential for unexpected situations, such as emergencies, where card payments may not be an option.
4. ATMs
Tbilisi has a well-developed network of ATMs, so you can easily withdraw cash if needed. Be sure to notify your bank of your travel plans to ensure your cards work internationally.
5. Currency Exchange
You can exchange foreign currency for Georgian lari at banks, exchange offices, or even in hotels. It's often recommended to exchange money at official exchange offices or banks for better rates than hotels or street vendors.
6. Currency in Tourist Areas
In tourist areas like the Old Town, many businesses will accept foreign currencies such as US dollars or euros, but the exchange rate may not be favorable. It's still best to use Georgian lari whenever possible.
In summary, while Tbilisi is becoming increasingly card-friendly, having a small amount of cash on hand for everyday expenses and emergencies can be practical, especially if you plan to explore beyond the city's more touristy areas. Be sure to check the payment options at specific places you plan to visit and plan accordingly.
In Conclusion
In conclusion, spending a day in Tbilisi offers a delightful blend of history, culture, and culinary experiences. From the picturesque Old Town to the vibrant Rustaveli Avenue, there's something for everyone to enjoy. Whether you're captivated by the ancient Narikala Fortress, savoring traditional Georgian cuisine, or immersing yourself in the city's artistic offerings, Tbilisi is a city that promises a memorable day of exploration and discovery. So, make the most of your visit to the Georgian capital and create your own unique Tbilisi experience in just one day.