Wedding Traditions in Georgia - The best wedding Places in Georgia
Georgia, a country in the South Caucasus region of Eurasia, has a rich cultural heritage and a long history of traditions, including those related to weddings. Georgian wedding traditions are deeply rooted in the country's history and can vary based on the region and family preferences, but there are several common elements that are typically observed in Georgian weddings
How to make Wedding "Too Georgian"
1. Engagement (Nishnoba)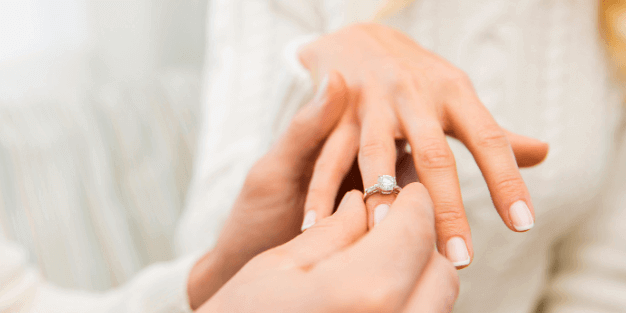 In Georgia, the process of getting married often begins with an engagement, known as "Nishnoba." During the Nishnoba, the groom's family visits the bride's family to formally ask for her hand in marriage. It's a significant event that involves blessings, the exchange of gifts, and the sealing of the engagement with a toast.
2. Wedding Dates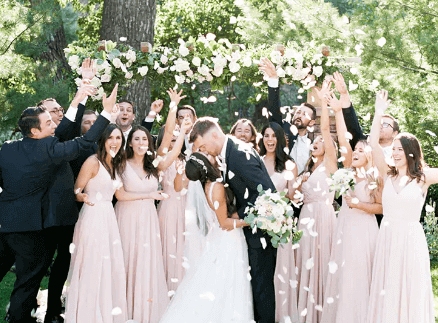 Georgians are superstitious when it comes to choosing wedding dates. Some days, like Tuesday and Saturday, are considered unlucky, while others, like Sunday and Wednesday, are seen as favorable for weddings.
3. Traditional Georgian Dress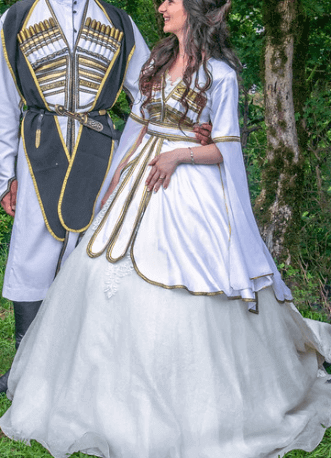 The bride and groom typically wear traditional Georgian clothing on their wedding day. The bride might wear a white or ivory dress with a headdress, while the groom may wear a "chokha," a traditional Georgian outfit.
4. Supra (Georgian Feast)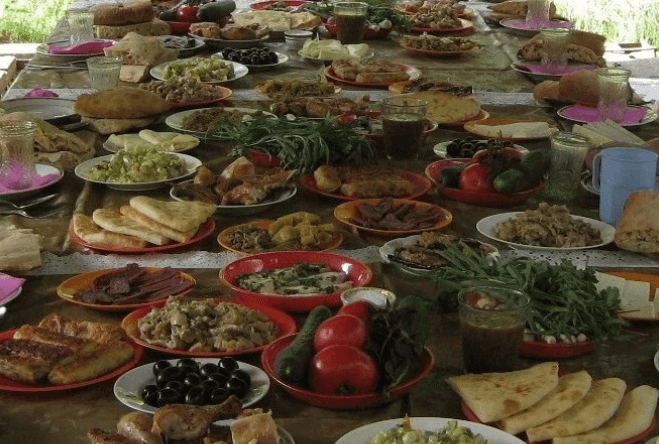 The Georgian supra is a key element of wedding celebrations. It involves a lavish feast with an abundance of traditional Georgian dishes, wine, and toasts. The tamada, or toastmaster, plays an essential role in leading the toasts and keeping the festivities lively.
5. Wedding Church Ceremony
Many Georgian couples choose to have a religious wedding ceremony in a Georgian Orthodox church. This ceremony involves the exchange of wedding rings and crowning of the couple.
6. Dancing and Music
Traditional Georgian dances and music are an integral part of the wedding celebration. Guests often participate in lively dance performances, and the celebrations can last for hours.
7. Wedding Favors
It is customary for the bride and groom to give small wedding favors or keepsakes to their guests as a token of appreciation for attending the wedding.
8. Throwing of Wheat and Money
It is customary for the couple to throw wheat and coins as they leave the wedding venue. This symbolizes fertility and prosperity in their new life together.
Best Wedding Places in Georgia in 2023
There are many wonderful places in Georgia where you can spend the most important day of your life and today's article we are gonna recommend some of the best. Do not forget to check other helpful articles on our website if you're a new guest in Georgia!
1.Kakheti - Kvareli Lake Resort
Kvareli Lake Resort in Kakheti, Georgia, is a picturesque and idyllic venue for hosting a wedding. Nestled in the heart of the Kakheti wine region, this resort offers a stunning natural backdrop with the Kvareli Lake and the surrounding lush vineyards and mountains. Here's a short description of the Kvareli Lake Resort for a wedding:
Exchange your vows against the backdrop of Kvareli Lake's tranquil waters, with the Caucasus Mountains as a majestic panorama.
The resort offers comfortable and luxurious accommodation options for you and your guests, ensuring a relaxing and convenient stay.
Enjoy delectable Georgian and international cuisine, expertly prepared by the resort's culinary team, and complemented by fine local wines.
Kakheti is renowned for its winemaking, and the resort offers wine-related activities and tastings, allowing you to savor the region's exceptional wines.
For a wedding that combines the beauty of nature, the richness of Georgian culture, and the comfort of a top-notch resort, Kvareli Lake Resort in Kakheti is the perfect choice. Your love story will come to life in this romantic and scenic setting, creating cherished memories that will last a lifetime.
2)Chateau Mukhrani Winery
Chateau Mukhrani Winery, located in the heart of Georgia, is a charming and historic venue that offers a unique and elegant setting for a wedding celebration. Here's a short description of Chateau Mukhrani Winery as a place for a wedding:
The winery is surrounded by vineyards, making it an exquisite setting for outdoor ceremonies and photo opportunities among the lush grapevines.
As a working winery, Chateau Mukhrani offers the opportunity for wine-themed celebrations, including wine tastings and tours, allowing you to incorporate Georgian wine culture into your wedding.
The venue's experienced event planners will assist you in creating a personalized and flawless wedding experience.
Immerse your guests in the rich Georgian heritage by exploring the nearby historic sites, monasteries, and local culture.
3)Tbilisi Funicular Restaurant
The Tbilisi Funicular Restaurant, perched on the hills overlooking Tbilisi, Georgia, is a unique and picturesque venue that can make for a memorable wedding location. It offers stunning panoramic views of the city and the surrounding landscape, providing a one-of-a-kind setting for a wedding. Here's a short description of the Tbilisi Funicular Restaurant as a potential wedding venue:
For couples seeking a wedding venue with a distinctive charm and breathtaking views, the Tbilisi Funicular Restaurant is a compelling choice. Situated high above the city, this venue provides a memorable backdrop for your special day, with its panoramic vistas of Tbilisi's historic and modern landscapes.
Enjoy the romantic ambiance of being perched on a hill, overlooking the twinkling lights of Tbilisi, as your backdrop.
The Funicular Restaurant's cable car ride to reach the venue adds a sense of adventure and uniqueness to your wedding experience.
Choose between indoor and outdoor dining areas, both offering captivating views and a memorable atmosphere for your ceremony and reception.
Savor delicious Georgian and international cuisine, expertly prepared by the restaurant's culinary team, and paired with an extensive wine selection.
The venue's setting creates an intimate ambiance, perfect for smaller to medium-sized wedding celebrations.
The restaurant's staff is experienced in hosting special events, ensuring your wedding day runs smoothly.
4)Lopota Lake Resort and Spa
Lopota Lake Resort and Spa, located in Georgia's picturesque Kakheti region, is an excellent choice for a wedding venue. With its serene lakeside setting, beautiful natural surroundings, and upscale amenities, it provides a romantic and memorable backdrop for your special day. Here's a short description of Lopota Lake Resort and Spa as a wedding venue:
Nestled amidst the scenic landscapes of Kakheti, Lopota Lake Resort and Spa is an idyllic wedding destination. The resort's pristine lakeside location, surrounded by lush forests and vineyards, offers a perfect setting for a romantic and unforgettable wedding.
Say your vows by the tranquil Lopota Lake, surrounded by the beauty of the Georgian countryside.
The resort offers elegant accommodations for you and your guests, ensuring a comfortable and convenient stay.
Choose from various indoor and outdoor venues for your ceremony and reception, tailored to your preferences.
Enjoy delectable Georgian and international cuisine, complemented by a fine selection of wines, prepared by the resort's culinary team.
Relax and rejuvenate with spa and wellness facilities for you and your wedding party.
5)Kvareli Eden
Kvareli Eden is known for its versatile offerings and stunning surroundings, making it a favorable choice for weddings. Here's what you can anticipate:
The venue provides comfortable and well-appointed accommodations for you and your guests, ensuring a convenient and enjoyable stay.
Expect delicious Georgian and international cuisine, expertly prepared by the venue's culinary team. The wines of Kakheti are readily available to complement your dining experience.
Kvareli Eden has experienced event planners and staff who are dedicated to making your wedding day run smoothly. They can assist you with all aspects of wedding planning and execution.
Your guests can engage in various activities, including wine tastings, tours, and exploring the nearby attractions of Kakheti.
Immerse yourself and your guests in Georgian culture and traditions by incorporating local customs into your wedding celebration.
Wedding Tour With Archeotour
"Cherish Your Special Day Forever"
Celebrate your love with a one-of-a-kind Wedding Photo Tour guided by your private photographer. Whether it's an intimate elopement or a grand affair, our experienced photographer will capture every precious moment. Explore picturesque locations, from romantic cityscapes to tranquil natural settings, all while our lens focuses on you. With our Wedding Photo Tour, your love story becomes a work of art, preserving the magic of your special day for eternity. Say "I do" to memories that will last a lifetime.
All-Inclusive Tour includes:
Photos

Dron

Video

Snacks

Guide
The cost is 694$.
Everything without Dron and Video - 402$
Prices are different outside of Tbilisi!
Contact us for more details.
In Conlclusion
In conclusion, Georgia's rich tapestry of wedding traditions and its stunning array of wedding venues make it a truly enchanting destination for couples looking to tie the knot. The deep-rooted customs, like the tamada's toasts and the chacha shots, bring an element of authenticity and cultural significance to any Georgian wedding. From the picturesque vineyards of Kakheti to the historic charm of Tbilisi and the breathtaking landscapes of Svetitskhoveli Cathedral, Georgia offers a diverse range of places to celebrate love and commitment.
Whether you opt for a traditional Georgian wedding or a more contemporary celebration, this beautiful country provides the perfect backdrop for one of life's most significant moments. With a fusion of old-world charm and modern elegance, Georgia offers a unique and unforgettable wedding experience that will not only create lifelong memories for the couple but also leave a lasting impression on every guest fortunate enough to witness the union.